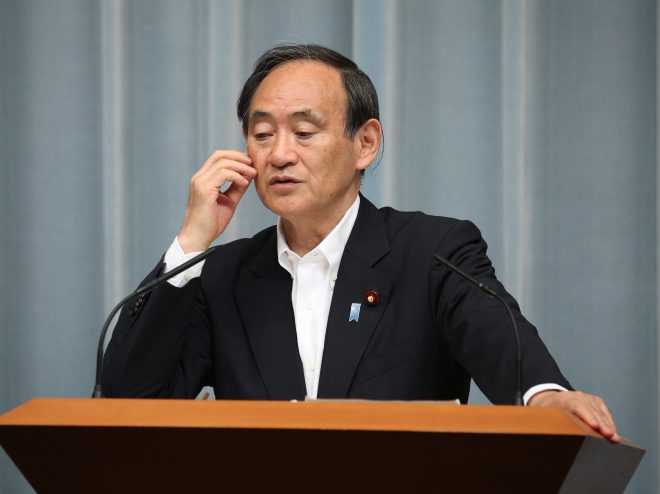 May 15, 2017
TOKYO- Japanese Chief Cabinet Secretary Yoshihide Suga said Monday that North Korea's ballistic missile technology is believed to be developing.
North Korea "appears to have achieved a certain degree of progress in its technology related to ballistic missiles," the top Japanese government spokesman said at a press conference, after the state-run Korean Central News Agency reported the same day that Pyongyang successfully test-fired a new type of medium-range ballistic missile
on Sunday
.

The nuclear-capable missile reached an altitude of 2,111.5 kilometers, according to the report.
Regarding the possibility of US-North Korea talks, Suga said, "Holding dialogue for the sake of dialogue should be avoided."
"Creating an environment that allows progress to be made is extremely important," he said.
Meanwhile, in New York,  the UN Security Council will hold an emergency meeting
on Tuesday
, at the request of Japan, the United States and South Korea
on Sunday
, to discuss its action against North Korea in the wake of the country's latest ballistic missile launch.
This will be the first UNSC emergency meeting over North Korea since March.
North Korea launched what is believed to be a new type of ballistic missile
on Sunday
, after South Korean President Moon Jae-in took office
on Wednesday
.
The administration of US President Donald Trump, which is aiming to increase international pressure on North Korea, is concerned that Moon may take a more reconciliatory stance on Pyongyang than the previous South Korean government.
By jointly calling for the Security Council emergency meeting, Japan, the United States and South Korea maintained their unity for now, analysts said.
The Security Council is expected to make coordination on issuing a press statement to denounce the latest missile launch. The powerful U.N. organ has adopted similar documents against North Korea's past missile launches.
An early adoption of a press statement requires support from China and Russia.
"There are no excuses that justify North Korea's actions," Nikki Haley, the United States' ambassador to the United Nations, tweeted, seeking cooperation from Beijing and Moscow. "The threat is real," she said.
Haley also told US broadcaster ABC, "What we're going to do is continue to tighten the screws."
She added, "We're going to continue, whether it's sanctions, whether it's press statements," citing a ban on oil exports to North Korea as a possible option.
In Beijing, Japanese ruling party executive Toshihiro Nikai
on Sunday
signaled his hope to meet with Chinese President Xi Jinping to ask for Beijing's cooperation in preventing North Korea's further provocations following the reclusive state's ballistic missile firing the same day.
Noting that China's response to the missile launch is drawing keen attention from the international community, Nikai, secretary-general of the Liberal Democratic Party, also told reporters in Beijing, "I need to inform Xi that Japan is worried about the situation."
Nikai may hold a meeting with the Chinese leader
on Tuesday
. (Jiji Press)