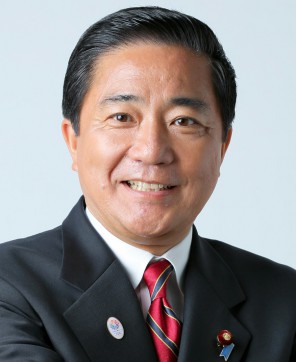 April 10, 2017
TOKYO- 
Former Japanese State Minister of Defense Akihisa Nagashima submitted a letter of resignation from the Democratic Party
on Monday
, dealing a heavy blow to the main opposition party ahead of the Tokyo metropolitan assembly election in July.
"It's difficult for me to accept the DP leadership's policy of joining forces with the Japanese Communist Party in elections," Nagashima, a House of Representatives lawmaker, said at a press conference after a meeting with DP Secretary-General Yoshihiko Noda.
It was the first time for a DP lawmaker to make clear an intention to secede from the party, which was created in March last year through a merger between the Democratic Party of Japan and Ishin no To (Japan Innovation Party).
Noda declined to accept the resignation letter immediately and put Nagashima's offer on hold, planning to discuss the issue with party executives.
Later
on Monday
, the DP's leadership team informally decided to expel Nagashima from the party, rather than accepting his resignation, party sources said.
At the press conference, Nagashima, a conservative member of the DP, said that his attitude to diplomatic and national security policy is totally different from that of the JCP.
Nagashima said he will not join another political party for the time being. Still, he suggested that he may work with Tokyo Governor Yuriko Koike, saying he will seek every possibility.
He said he is not at all considering participation in a parliamentary group led by the ruling Liberal Democratic Party, despite an invitation from a senior LDP official.
Due to the likelihood of the DP facing an uphill battle in the closely watched metropolitan assembly election, a number of the DP's planned candidates have tendered their resignation from the party in a bid to seek cooperation from "Tomin First no Kai"  (Tokyoites first group), a regional political party effectively led by Koike.
Nagashima has been elected to the Lower House five times since 2003 from the proportional representation bloc for Tokyo, the home electoral district of DP President Renho, a House of Councillors lawmaker.
Under the DPJ-led government of Prime Minister Noda, Nagashima served as adviser to the prime minister on diplomatic and security affairs, as well as state minister of defense. (Jiji Press)