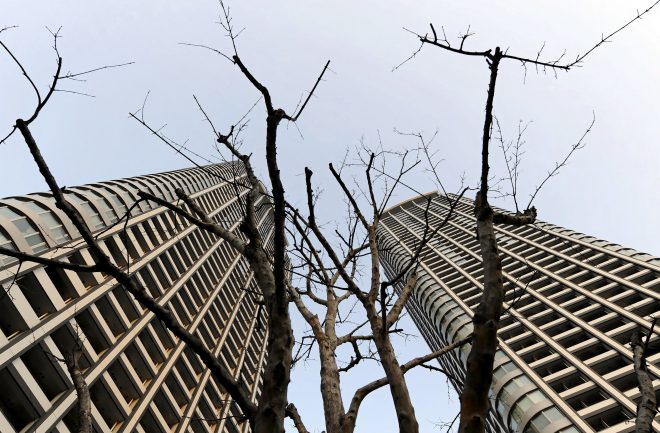 May 8, 2017
Tokyo- Elevated prices are putting new condominiums out of reach of average workers in Japan.
With demand dampened by high acquisition costs, the number of new condos put on sale across Japan in 2016 fell for the third year in a row, hitting the lowest level in 24 years.
According to the Real Estate Economic Institute, 76,993 new condos were offered for sale in 2016, down 1.4 percent from the previous year. The annual total was the smallest since 1992, soon after the bursting of Japan's economic bubble.
An increase in supply in regions where condo prices are relatively low, such as Tohoku, Chugoku and Kyushu, brought the average price of newly offered condos to 45.60 million yen, down 1.3 percent from the all-time high marked in 2015. But the 2016 average price was higher than 44.88 million yen in 1991 at the peak of the bubble economy.
High prices have made condos less affordable to average workers faced with stalled income growth, contributing to the continuous supply contraction.
Condo prices remain high due to rising land prices resulting from intensified competition for acquisition between condo builders and hotel operators building new facilities to take advantage of a record-breaking increase in the number of tourists from abroad. The increased cost of labor in a construction industry struggling with a shortage of workers is another major factor keeping condo prices high.
By area, the supply of new condos fell in the three major metropolitan areas--Tokyo, Osaka, Nagoya and their vicinities--but increased sharply in Tohoku, Chugoku and Kyushu.
In particular, new condo supply plunged 11.6 percent in Tokyo and its neighboring prefectures of Kanagawa, Saitama and Chiba, which together account for about half of all condos put on sale in Japan.
While luxury condos priced at 100 million yen or more remain in high demand in the Tokyo metropolitan area, average condos, other than those with "special appeals such as urban redevelopment projects under way nearby," are shunned by consumers, said an official at a leading real estate company.
The continued decrease in the supply of new condos can also be attributed in part to a shift in interest toward affordably priced used condos, industry watchers said. (Jiji Press)