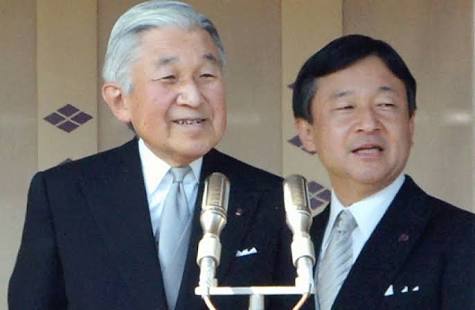 January 17, 2017
TOKYO
- It would be "difficult" for Crown Prince Naruhito to begin his reign as new emperor on
Jan. 1, 2019
, as has been recently reported by Japanese media, due to key events held every year on New Year's Day, a senior Imperial Household Agency official said
Tuesday
.
Japanese media outlets have reported the government has been considering the possibility of arranging for the crown prince, 56, to ascend the throne on
Jan. 1, 2019
, following the current 83-year-old emperor's abdication the previous day, citing unnamed sources.
Vice Grand Steward Yasuhiko Nishimura told a press conference, however, that Jan. 1 "is an important day for the imperial family" and said, "It would be difficult to set events related to an abdication."
He cited the New Year celebration at the Imperial Palace, which is defined as a "matter of state," and various Shinto rites, which are private acts of the family, as the key events.
Rejecting the hypothesis and noting that his remarks were made "in general terms," the official explained that, "I believe it would be better to clarify the Imperial Household Agency's view" as stories of the enthronement on
Jan. 1, 2019
have been widely reported.
During his press conference last week, Nishimura said he was surprised by the news, adding it was "a bolt from the blue."
Prime Minister Shinzo Abe's government has regarded 2018 as a time limit after the emperor stated in a video message last August, "A major milestone year marking the 70th anniversary of the end of World War II has passed, and
in two years
we will be welcoming the 30th year of Heisei," according to the reports. The 30th year of the era of Heisei falls in 2018.
The government is reportedly seeking to enact special legislation during a Diet session convening
Friday
to enable the emperor to abdicate, based on his indication of his desire to do so. (Kyodo News)