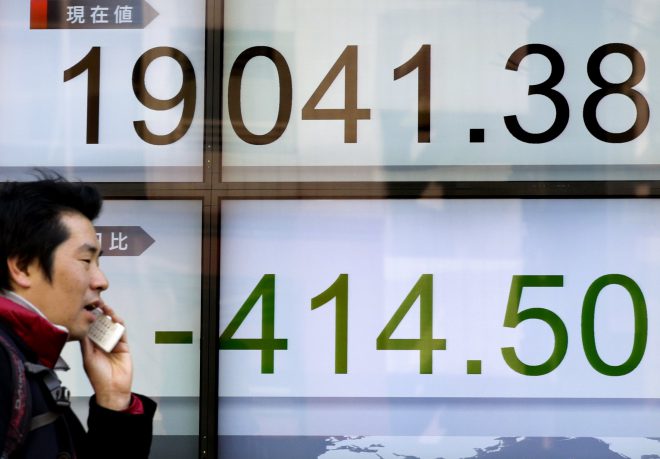 March 22, 2017
TOKYO- Stocks sank deeper into negative territory on the Tokyo Stock Exchange Wednesday, with investor sentiment hurt by an overnight sell-off on Wall Street and the yen's sharp appreciation against the dollar.
The 225-issue Nikkei average tumbled 414.50 points, or 2.13 pct, to end at 19,041.38.
The key price indictor suffered the biggest closing loss since Donald Trump's victory in the US presidential election in November last year.
On Tuesday
, the Nikkei average shed 65.71 points.
The TOPIX index of all first-section issues closed down 33.22 points, or 2.12 pct, at 1,530.20, after losing 2.43 points the previous day.
Stocks nose-dived right after the opening bell, as investors rushed to sell in view of the Dow Jones industrial average incurring its biggest closing point loss in about six months on the New York Stock Exchange
on Tuesday
.
The Dow extended its losing streak amid growing uncertainties over whether Trump can carry out tax reforms and other fiscal and economic policy measures he pledged during his campaign, brokers said.
The dollar's sharp fall against the yen on the back of lower US long-term interest rates also weighed down the Tokyo market.
After moving narrowly below 19,100 mostly in the afternoon session, the benchmark Nikkei average gave up nearly 430 points toward the day's closing. (Jiji Press)