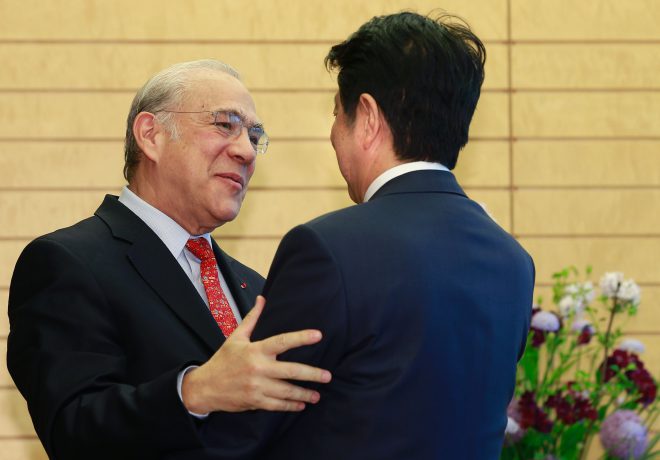 April 18, 2017
Tokyo- Angel Gurria, secretary-general of the Organization for Economic Cooperation and Development, has called for continued dialogue with the United States to keep the Trans-Pacific Partnership free trade deal alive.
The TPP is "not dead" after the US. withdrawal, Gurria said in a recent interview with Jiji Press.
The administration of US President Donald Trump has room to change its policies because it is a young administration with hundreds of positions that have yet to be filled, Gurria said.
"Protectionism hurts the country itself most because it cannot become competitive," the OECD chief said, noting that many companies in the United States depend on free trade.
Gurria indicated Trump apparently made some changes in his commitment to renegotiate the North American Free Trade Agreement, saying it was made "during the campaign or maybe immediately after taking office."
If a multilateral free trade agreement is pursued, any specific country should not be excluded, Gurria said, apparently referring to China. "My only recommendation would be to leave it open," he said.
Gurria said Japan needs to raise its consumption tax further in a predictable manner after a planned increase from 8 pct to 10 pct in 2019. (Jiji Press)