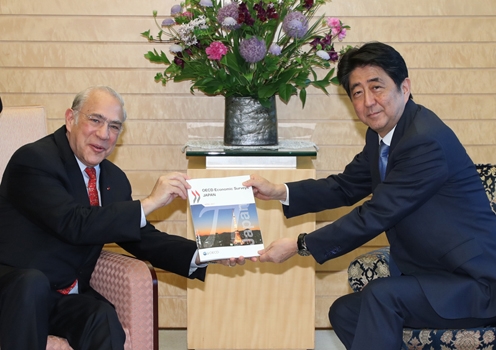 April 14, 2017
Tokyo- 
The Organization for Economic Cooperation and Development
on Thursday
urged Japan to change its culture of long working hours to improve its work-life balance for the country's economic growth.
In a survey report, the Paris-based think tank cited a declining workforce on the back of the aging population as a major issue for the country's economy.
In particular, the OECD said the culture of long working hours "limits employment opportunities for women with family responsibilities."
Japan needs to introduce a binding ceiling on overtime hours in order to encourage women to work, the OECD said.
"Greater use of foreign workers would also slow the decline in the labor force," it said.
The OECD also expressed worries about Japan's debt-ridden public finances, saying the debt "continues to rise into uncharted territory."
Japan needs to "gradually raise the consumption tax rate," currently standing at 8 pct, to achieve fiscal sustainability, the OECD said.
If Japan's target of lowering the ratio of its debt to gross domestic product from fiscal 2021 "were to be achieved solely through the consumption tax, it would have to rise to the European average of around 22 pct," it said.
Reduced consumption tax rates, proposed to mitigate the impact of higher rates, "are not effective" as low-income earners receive little benefit, it said.
OECD Secretary-General Angel Gurria told a press conference in Tokyo that the country needs to raise the consumption tax by about one percentage point annually after the planned increase to 10 pct in 2019.
The OECD said it expects Japan's economy to grow 1.2 pct in 2017 and 0.8 pct in 2018.
In a meeting with Japanese Prime Minister Shinzo Abe, Gurria called on the government to take steps, including consumption tax increases, to address challenges to the country's economy.
Abe responded by saying that his country will continue to implement reforms. (Jiji Press)