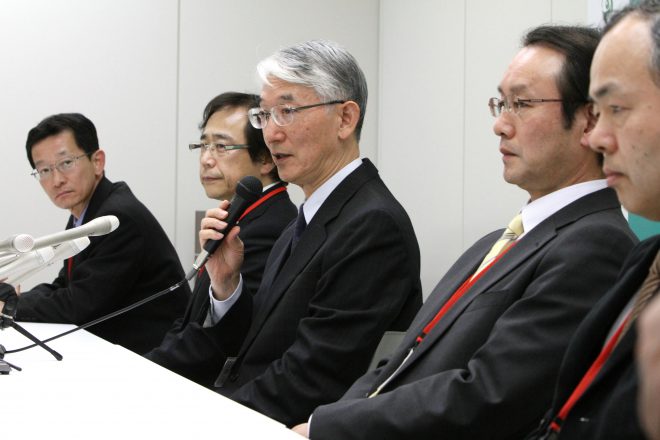 February 22, 2017
TOKYO- Japan's Nuclear Regulation Authority adopted
on Wednesday
a report effectively confirming that the No. 3 and No. 4 reactors at the Oi nuclear power plant in Fukui Prefecture cleared the authority's safety screening.
If the two reactors at the plant in the central Japan prefecture pass remaining examinations and inspections, the plant operator, Kansai Electric Power Co., will work to bring them back online by the end of the year, despite lingering concerns about their actual earthquake resistance capabilities.
The NRA has now adopted safety confirmation reports for 12 reactors at six power plants.
For Kansai Electric, based in the western city of Osaka, all seven reactors at three plants for which it applied for the authority's screening have obtained de facto safety certificates essential to restarting operations.
During the screening of the Oi units, Kunihiko Shimazaki, former acting NRA chairman, suggested that the basic ground motion, a measure that provides the basis for designing quakeproof buildings, for the reactors had been underestimated.
Shimazaki, professor emeritus at the University of Tokyo, urged the NRA to recalculate the basic ground motion, or the maximum shake estimate, under a formula used by the government's earthquake research headquarters. The authority turned down the request.
The NRA adopted Kansai Electric's ground motion estimate of 856 gals in the report. But the figure calculated under the Shimazaki-recommended formula far exceeded 1,000 gals, people familiar with the matter said.
The NRA also accepted Kansai Electric's maximum assumed tsunami height of 6.3 meters, concluding that there were no problems in the reactors' earthquake and tsunami preparations.
In May 2014, Fukui District Court issued a ruling in favor of a local residents' request for a ban on the restart of the reactors. The district court decision failed to take effect, however, because Kansai Electric appealed it to the Kanazawa branch of Nagoya High Court.
The company has already informed the NRA that it plans to finish by September the inspections needed for commercial operations of the 1.18-million-kilowatt pressurized water reactors. A company official said that this does not necessarily indicate when the reactors will be restarted.
According to Kansai Electric, the ongoing construction of an accident response center for the No. 3 and No. 4 units is due to be completed by March 2019. Until then, a conference room next to the central control room of the No. 1 and No. 2 reactors will be used. (Jiji Press)