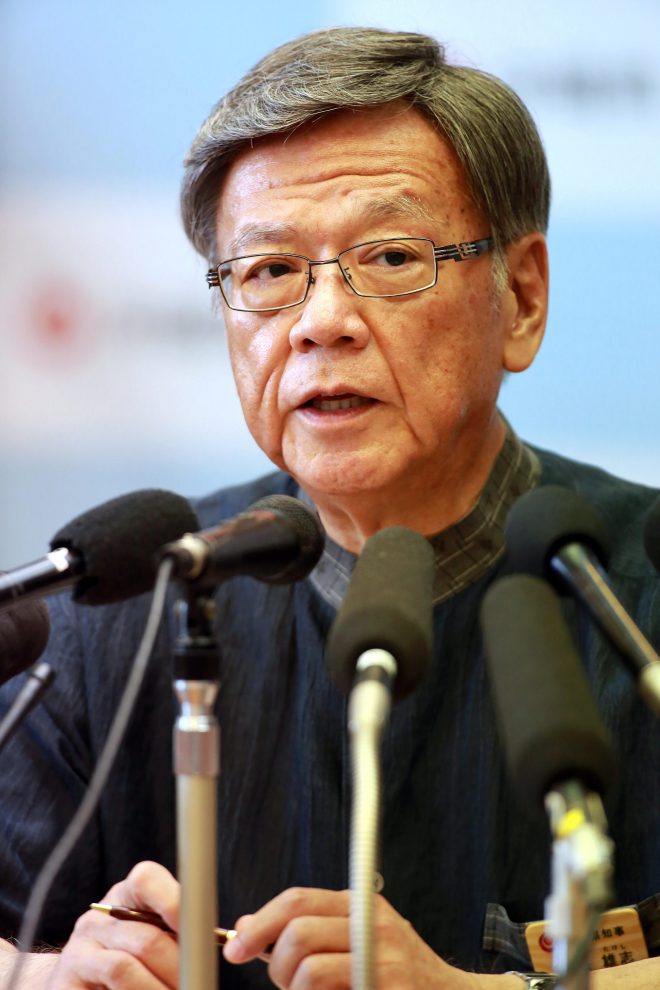 February 27, 2017
NAHA- Meeting with Japanese Foreign Minister Fumio Kishda in Naha Sunday, Okinawa Prefecture's Governor Takeshi Onaga reiterated his opposition to the relocation of a US base to the Henoko coastal district in Nago in the southern Japan prefecture.
If the Japanese government sticks to the project to construct a replacement facility for the US Marine Corps' Futenma air base in Ginowan, another city in Okinawa, "it will leave a serious problem to the Japan-US security alliance," Onaga told Kishida at the head office of the prefectural government.
Avoiding making a direct reply, the foreign minister said that stable US military presence in Japan cannot be maintained without local residents' understanding of its importance.
The state government will carry out the relocation of the Futenma base's functions to Henoko so as to "visibly reduce" Okinawa's burden of hosting the bulk of US bases in the country.
To Kishda, Onaga submitted written requests for the termination of Futenma base operations
within five years
and a full-fledged review of the Japan-US status of forces agreement.
"It should take years to revise the agreement as the work will involve enormous legal tasks," Kishida said, while noting that Tokyo and Washington have signed a supplementary accord to narrow down the scope of US civilian base workers in Japan, who are primarily under the criminal jurisdiction of the United States. (Jiji Press)