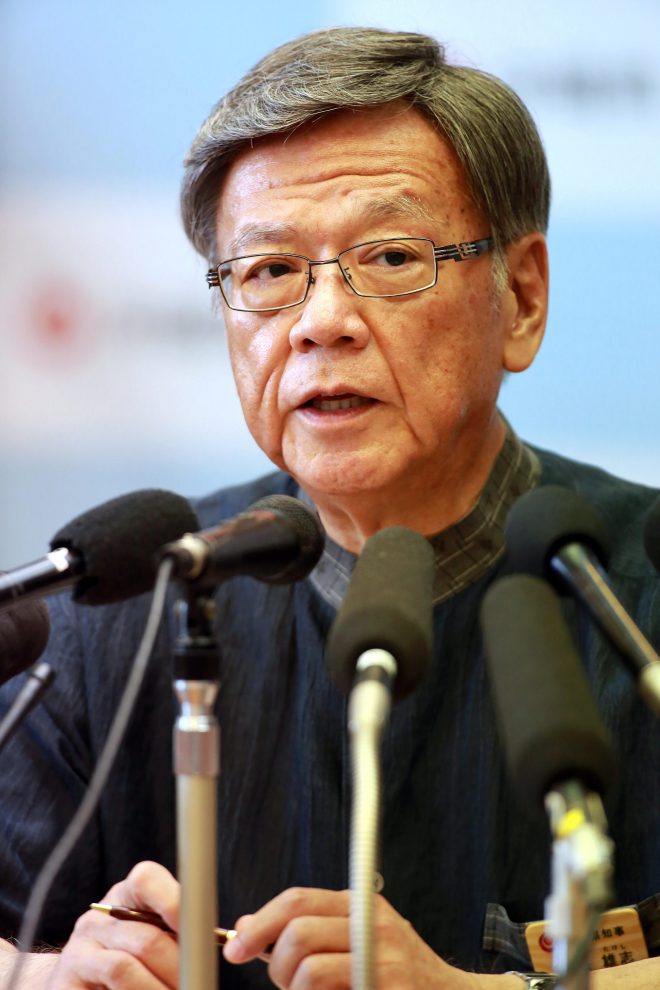 March 16, 2017
NAHA- Okinawa Governor Takeshi Onaga said Thursday he is considering filing a lawsuit to block construction work related to the planned relocation of a US military base in his southern Japan prefecture.
Speaking at a press conference at the prefectural office in Naha, Onaga criticized the Japanese Defense Ministry for planning to crush rocks and reefs in waters off the city of Nago without filing for an extension of his approval.
"If unauthorized acts of crushing rocks and reefs are conducted in April or later, we'll take every possible legal action, including considering a lawsuit to suspend the work," Onaga said.
The possible legal actions also include administrative guidance to the ministry and penalties against it based on prefectural fisheries regulations, he said.
According to the prefectural fisheries regulations, approval by the governor is required to alter the terrain of the ocean floor in an area where fishery rights are established.
The current gubernatorial approval expires at the end of this month. The ministry judged there is no need to renew it as local fishermen have abandoned fishery rights there.
The prefectural government claims that the fishery rights exist unless the governor completes procedures to undo them.
The crushing work is related to the Japanese government's plan to build a facility in Nago's Henoko coastal district to relocate the US Marine Corps' Futenma air base in the Okinawa city of Ginowan. Onaga strongly opposes the plan.
In a separate news conference in Tokyo, Chief Cabinet Secretary Yoshihide Suga said there is no need to apply for permission by the governor over the crushing work.
"We'll continue land reclamation work off Henoko in cooperation with the prefectural government," Suga said. (Jiji Press)