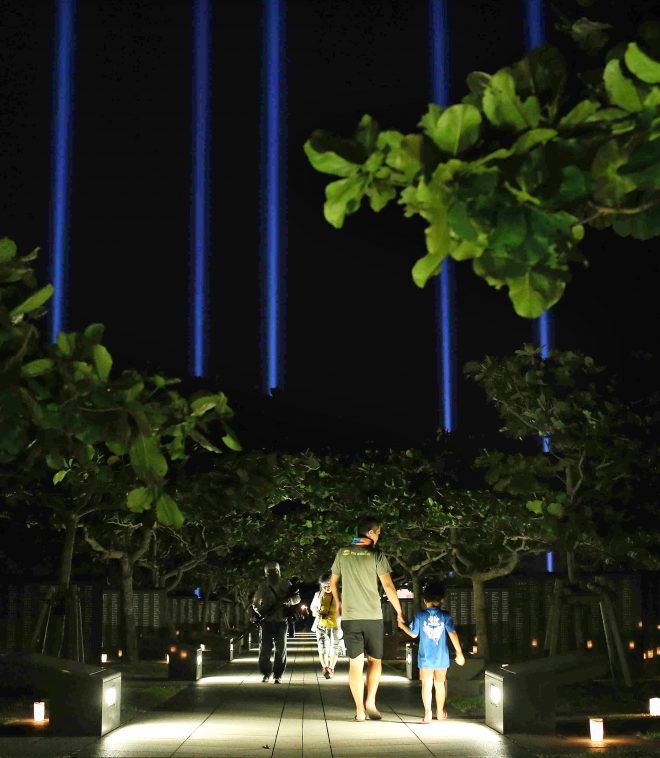 March 14, 2017
OKINAWA- Okinawa Prefecture unveiled
Tuesday
a monument telling the history of student mobilization during the Battle of Okinawa, a savage ground battle in the late stage of World War II that killed numerous local citizens.
Former members of mobilized student units attended an unveiling ceremony and voiced their wish that future generations will learn about the horrors of the war from the new monument.
During the battle, some 2,000 students from 21 junior high and other schools in Okinawa, southern Japan, were mobilized to transport goods and give nursing care for Imperial Japanese soldiers. Some 1,000 of them are said to have lost their lives in the battle.
The new monument, located in Peace Memorial Park in the city of Itoman in southern Okinawa, is inscribed with explanations about the student units and the names of the 21 schools.
Although the stories of the "Himeyuri" nursing unit of students and teachers of two girls' schools in Okinawa are often told in and outside Japan, the history of students mobilized from other schools has remained little known.
The prefectural government aims to communicate the importance of peace by building the monument in the park, which is visited by many high school students on their school trips from across the country.
"I want people to know that youngsters were victimized by the horrible war," said Yoshiko Shimabukuro, an 89-year-old former Himeyuri nurse and head of the Himeyuri Peace Museum in Itoman.
Kiku Nakayama, a former member of the "Shiraume" corps of student nurses, said, "There are now only a small number of people who can tell stories on their own."
"The monument is expected to pass along the facts of the war to many people," Nakayama, 88, said. (Jiji Press)