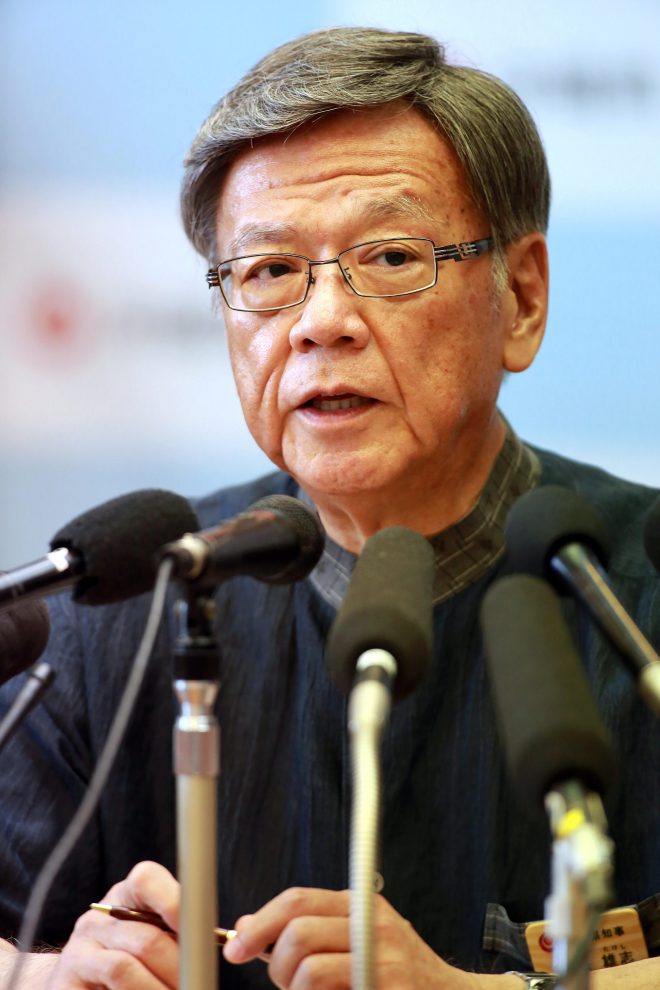 May 11, 2017
TOKYO- Okinawa Governor Takeshi Onaga called on the Japanese government
on Wednesday
to support the development of the southernmost Japan prefecture, including through the utilization of a housing area that was returned to Japan by the US military in 2015.
Onaga made the request during talks in Tokyo with Yosuke Tsuruho, minister for issues in Okinawa Prefecture, and Foreign Minister Fumio Kishida.
The governor asked Tsuruho to secure funds under the central government's budgets for making the site for the former West Futenma Housing Area in the city of Ginowan, Okinawa, a medical center.
In response, the minister said he hopes to turn the place into "Asia's leading (medical) foothold."
During the talks, Onaga did not mention the controversial relocation of the US Marine Corps' Futenma air station in Ginowan to the Henoko coastal area in the city of Nago, also Okinawa, that has sparked a serious conflict between the central and Okinawa governments.
In April, the state government started seawall construction work for land reclamation at Henoko as part of the base relocation project.
"Many of today's requests were very important," Onaga told reporters, asked why he did not protest against the launch of the seawall construction during the talks with the two ministers.
On Wednesday
, Onaga also held talks with Toshihiro Nikai, secretary-general of the ruling Liberal Democratic Party, and Natsuo Yamaguchi, chief of Komeito, the LDP's coalition partner.
There appear to be signs that Okinawa citizens' support for Onaga is weakening, following Onaga-backed candidates' defeats in recent mayoral elections in Okinawa.
Onaga's latest visit to Tokyo is apparently aimed at shoring up the support for him by pushing the central government to back local development, in the lead-up to Nago mayoral and Okinawa gubernatorial elections next year. (Jiji Press)