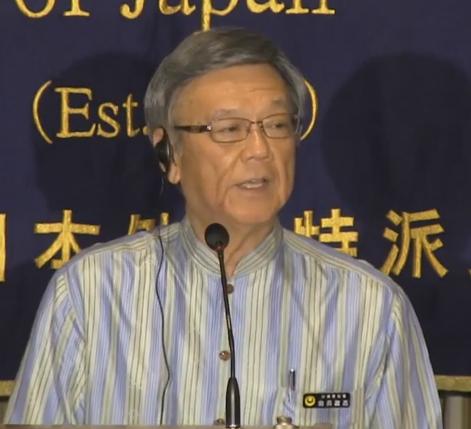 February 3, 2017
WASHINGTON- 
Visiting Okinawa Governor Takeshi Onaga, in a series of meetings with seven US House of Representatives members
on Wednesday
, sought a review of the planned relocation of a key US military base within the southernmost Japan prefecture.
The Japan-US security alliance could become very unstable unless the local public opinion against the relocation plan is respected, he said, calling for the US Marine Corps' Futenma air station to be moved out of Japan.
Based on Japan-US agreements, the base, now in a densely populated area in Ginowan, Okinawa, is set to be relocated to the Henoko coastal district in Nago in the same prefecture.
The seven House lawmakers are David Valadao (R-California), Colleen Hanabusa (D-Hawaii) and five other Democratic Party members, according to officials of the Okinawa prefectural government.
After the meetings, Onaga told reporters that many US lawmakers had previously told him that the relocation to Henoko is the only viable option.
"This time, we had discussions," Onaga said, adding that he and one of the seven House members spent as much as an hour talking about various matters.
Meanwhile, in Tokyo, Japanese government has no plan to seek the renewal of the rock reef destruction permission from the Okinawa governor in relation to the planned transfer of a key US military base in the southern Japan prefecture, government sources said Thursday.
The Japanese government finds it unnecessary to seek the renewal of the permission because a local fishery association has given up the fishing right in an area off the coast of Henoko, where the US Marine Corps' Futenma air station will be relocated, the sources said.
The decision by the central government deals a blow to Okinawa Governor Takeshi Onaga, who had been considering using a possible application for the renewal as a leverage to block the relocation of the Futenma base. He opposes any plan to build a new military base in his prefecture.
The prefecture requires those who plan to destroy rock reefs in areas where fishing rights are established to receive permission from the governor.
Based on the rule, the central government received the permission from Onaga's predecessor, Hirokazu Nakaima, in August 2014. The permission expires next month.
The local fishery association gave up its fishing right in the area off Henoko in November, based on the request from the Defense Ministry's Okinawa Defense Bureau, which is in charge of the relocation work.
The fishery association last month signed an agreement with the defense bureau to receive compensation for possible losses in return for giving up the fishing right.
The defense bureau plans to resume its work as soon as early next week to prepare for constructing the Futenma replacement facility in Henoko, informed sources said.
Losing a lawsuit against the central government over the Futenma relocation, Onaga in December withdrew his cancellation of his predecessor's approval for landfill work in Henoko. (Jiji Press)