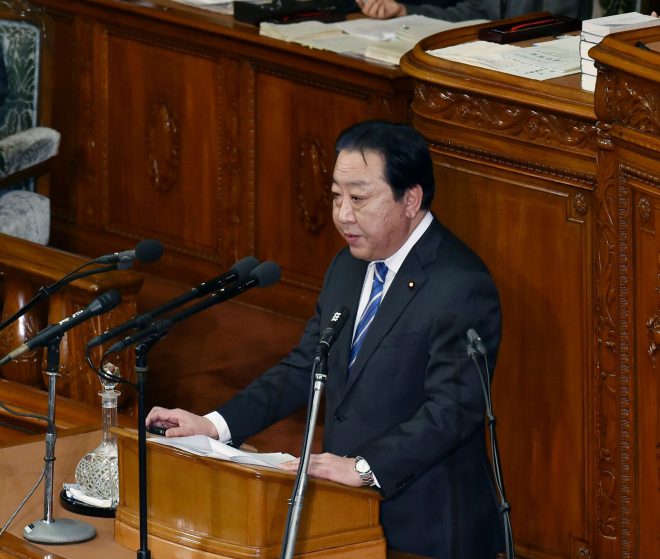 February 15, 2017
TOKYO- 
Japanese opposition leaders voiced their concerns
Monday
about the possibility of the administration of US President Donald Trump making tough demands over trade with Japan.
Yoshihiko Noda, secretary-general of the major opposition Democratic Party, told a press conference that the summit of Japanese Prime Minister Shinzo Abe and Trump in Washington
Friday
"has made us feel at ease on security issues but left a sense of vigilance intact on the economic front."
Abe had vowed to persistently try to persuade Trump into returning to the 12-nation Trans-Pacific Partnership, but the prime minister easily agreed at the summit to launch bilateral economic talks, Noda said. "I can hardly understand it."
Abe seems to have become "too close" to Trump through golfing "to say what he should say" to the US president, the former DP chief also noted.
Akira Koike, head of the secretariat of the Japanese Communist Party, said at a separate press conference that Abe has "laid the track for bilateral (trade) negotiations where Japan will have to make larger concessions than it did in TPP negotiations."
On the Japanese and US leaders' reaffirmation of the common policy of enhancing their countries' alliance, Koike said that they gave shape to Japan's new national security laws and paved the way for the two countries' joint participation in a war.
Meanwhile, Toshihiro Nikai, secretary-general of the ruling Liberal Democratic Party, told reporters that Abe had a "great" meeting with Trump.
At the summit, the prime minister, also LDP head, was able to agree with Trump to play together leading roles in achieving peace and stability in the world, Nikai said, stressing, "It was a big success." (Jiji Press)