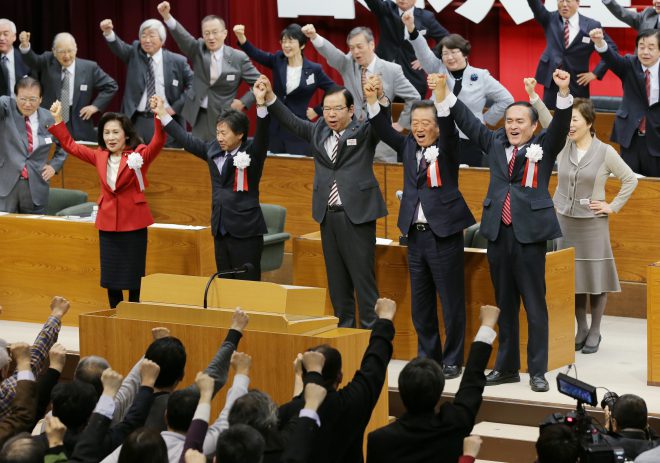 February 28, 2017
TOKYO- The Japanese opposition Social Democratic Party, whose presence has been declining sharply, has decided to relocate its headquarters from the Nagatacho political district in Tokyo's Chiyoda Ward to a building with a much lower rent in the capital in May.
Announcing the decision at
Sunday's
meeting of party representatives from across the nation, SDP Secretary-General Seiji Mataichi said that the party plans to use the saved money to cover costs for its election-related activities. The new headquarters will be in a private-sector building along the Sumida River in Tokyo's Chuo Ward.
While the annual rent for the new office will be about a third of some 45 million yen for the current headquarters, it will take about 15 minutes to travel from the new head office to the site for the Diet, Japan's parliament, in Nagatacho by car.
The SDP is scheduled to start using the new headquarters on
May 8
.
In 2013, the party moved to the current headquarters, located at the back of the prime minister's office in the Nagatacho district, from its previous, aging head office near the Diet building.
But the number of the party's lawmakers fell to four as its leader, Tadatomo Yoshida, lost his House of Councillors seat in the July 2016 Upper House election, and political subsidies to the party were reduced as a result. Against this background, the SDP had been looking for a new head office site which is away from Nagatacho and less costly.
Of the four SDP lawmakers, two are members of the House of Representatives, the all-important lower chamber of the Diet, and the other two are Upper House members.
"In the next Lower House election, we are determined to win at least five seats, including those for the two current members," Yoshida said at
Sunday's
meeting. (Jiji Press)