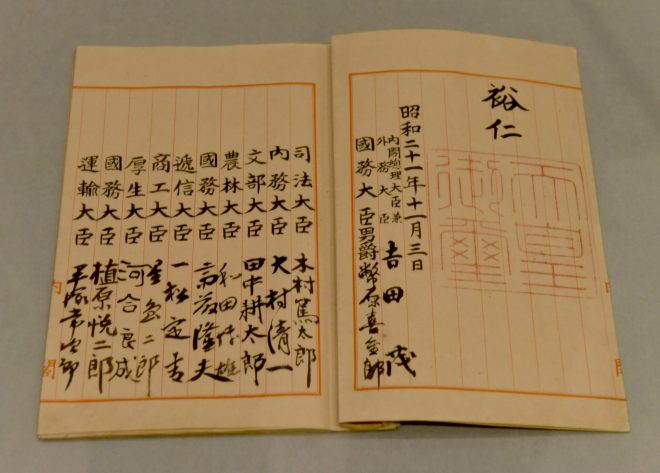 April 30, 2017
Tokyo- A special exhibition commemorating the 70th anniversary
on Wednesday
of the enforcement of Japan's constitution is under way at the National Archives of Japan in Tokyo, featuring the original copy of the nation's supreme charter.
The original document has a signature of Emperor Hirohito, known as Emperor Showa after his death in 1989, and his official seal.
About 60 items related to the establishment of the pacifist constitution are on display, also including the New Year's statement by Emperor Hirohito in 1946 declaring the concept that he was divine to be false.
The admission-free exhibition will run through
May 7
.
The exhibition also highlights Tokujiro Kanamori, who served as state minister in charge of the constitution under the government of Prime Minister Shigeru Yoshida after World War II. He headed the legislation bureau before the war.
The exhibited items related to Kanamori include the English dictionary he used to look up the definition of the term "symbol" and a list of anticipated questions and answers drawn up with senior officials of the legislation bureau regarding a draft of the constitution.
Under the constitution, drafted by the US occupation forces after the war, the Emperor is defined as "the symbol of the state and of the unity of the people."
"The best part (of the exhibition) is that visitors can learn the process of the constitution being drawn up," an official of the archives said. "It's important to leave the records to posterity." (Jiji Press)