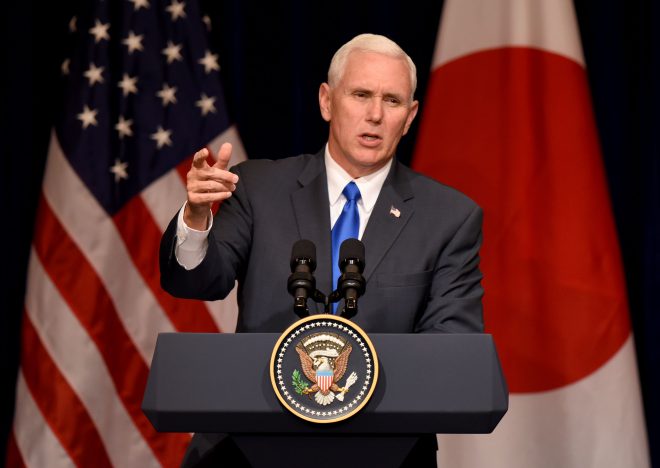 April 21, 2017
Tokyo- 
Visiting US Vice President Mike Pence held talks in Tokyo
on Wednesday
with Japanese business leaders, including Sadayuki Sakakibara, chairman of the Japan Business Federation (Keidanren).
In the meeting, Toyota Motor Corp. President Akio Toyoda explained his company's plans to expand its operations in the United States, according to Sakakibara.
Toyota sought support from Pence by reiterating his company's policy of contributing to the US economy and job creation there.
Speaking to reporters after the meeting, Toyoda said, "It's good that people who think of Japan lead" efforts to strengthen the Japan-US relationship.
US President Donald Trump criticized Toyota's plan to construct a factory in Mexico, just before he took office in January.
Toyota responded by announcing a policy of investing over one trillion yen in the United States over the next five years. The automaker also decided to boost its production capacity in Indiana, the hometown of Pence, and Kentucky.
The day's meeting was joined by US Commerce Secretary Wilbur Ross and representatives in Japan of US companies, including General Motors Co. and American Family Life Assurance Co. of Columbus, or Aflac.
In a speech, Pence reiterated his resolve to start negotiations with Japan for concluding a bilateral free trade agreement.
Noting that Toyota and Softbank Group Corp. decided to expand their US investment after Trump won the presidential election, Pence said "I'm grateful to all the Japanese businesses that are investing all over the United States at this very moment." (Jiji Press)