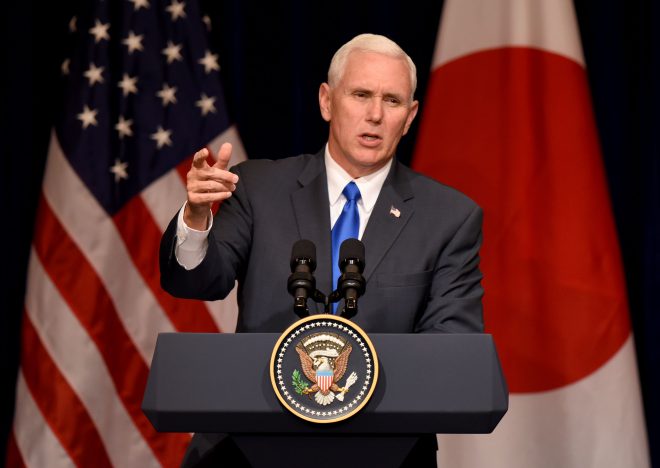 April 19, 2017
YOKOSUKA, KANAGAWA PREF- 
US Vice President Mike Pence
on Wednesday
stressed his country's resolve to defend Japan as obliged under the bilateral security treaty. "The United States' commitment to Article 5 of our security treaty is unwavering," Pence said in a speech before US troops and Japanese Self-Defense Forces personnel aboard the nuclear-powered aircraft carrier USS Ronald Reagan at the US Yokosuka naval base south of Tokyo.
"Our treaty covers all of the territories administered by Japan, including the Senkaku islands," Pence said, referring to the uninhabited islands in the East China Sea that are also claimed by China, which calls them Diaoyu.
Pence said, "North Korea is the most dangerous and urgent threat to the peace and security of the Asia Pacific."
In a warning against the reclusive state, he said "all options are on the table." "We will defeat any attack and meet any use of conventional or nuclear weapons with an overwhelming and effective American response," he said.
He reiterated that the era of "strategic patience" under former US President Barack Obama is now over.
Pence also emphasized that "the enemies of our freedom and this alliance would do well not to test" the resolve of US President Donald Trump or the capabilities of US forces and allies.
"The United States will continue to protect our people and our allies and to strengthen the bonds between us today,
tomorrow
, and every day that follows," he said.
Pence said, "You can rest assured the full range of the United States' military capability is dedicated to the protection of Japan."
In addition, he underscored that the United States' resolve to maintain peace and security in the Asia-Pacific region is "unyielding."
"We will protect the freedom of navigation and overflight and other lawful uses of the sea in the South China Sea and elsewhere," Pence said, warning against China's efforts to militarize the waters.
Pence's visit to the USS Ronald Reagan, a symbol of the US military's presence in Asia, is apparently intended to send a message to North Korea and China that the United States is firmly committed to ensuring the stability of the region.
Tensions between Washington and Pyongyang have been increasing, with the Trump administration earlier this month deciding to send the nuclear-powered aircraft carrier USS Carl Vinson north from Singapore. North Korea, unhappy with the US move, attempted to launch a ballistic missile over the weekend to coincide with Pence's Asian tour. (Jiji Press)