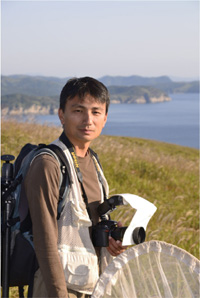 April 3, 2017
TOMIOKA, FUKUSHIMA PREF.- Yoshiyuki Nagahata was heartbroken to watch the changing landscapes of Fukushima Prefecture areas deserted since the March 2011 nuclear accident.
To communicate lessons from Japan's worst nuclear accident, the 44-year-old photographer has been taking pictures of nature in the northeastern prefecture.
Nagahata works mainly in areas where residents were forced to evacuate due to the accident at the Tokyo Electric Power Company Holdings Inc. plant, which was heavily damaged in the March 11 earthquake and tsunami.
Aiming his camera at a mega solar power generation facility in a northern part of Tomioka, a Fukushima town, in early March, Nagahata noted that the area used to be a rice field.
Due to the lack of water flows into the rice field since the accident, the area was briefly covered with solidago canadensis, a nonnative plant commonly known as Canada goldenrod, he explained.
Work to install solar panels is currently under way in the town, which is located within 20 kilometers of the stricken nuclear plant.
After all town residents had to evacuate, wild boars and pheasants have been spotted in many parts of the town, while such species as frogs, dragonflies and giant water bugs have disappeared from dried-up rice fields.
"The scenery of a 'furusato' countryside hometown with a loud chorus of frogs has disappeared," Nagahata said.
Born in Miki in Hyogo Prefecture, western Japan, Nagahata grew up playing in fields and mountains.
After studying silviculture at university, he moved to Yamagata Prefecture, north of Fukushima, at the age of 25, fascinated by the rich beech forests of the Tohoku northeastern region.
Nagahata was devastated to watch how the traditional rural landscapes of "satoyama" undeveloped woodland near populated areas changed after the nuclear accident.
Soon after the disaster, he visited the hardest-hit prefectures of Iwate, Miyagi and Fukushima almost every day. Currently, he continues to take pictures at fixed spots in disaster areas roughly on a monthly basis.
In February 2015, he published a photo book. He also travels all over Japan to give speeches and using his pictures to report the situation in disaster areas.
"With decontamination work uppermost in their minds, people neglect to discuss the natural environment in the reconstruction process," Nagahata said.
Six years after the disaster, temporary storage sites in many disaster areas hold large quantities of bags containing soil tainted with radioactive substances released from the nuclear plant, from decontamination work by the Japanese government.
"If we want to promote reconstruction, we also need to revive satoyama," he said.
According to a survey conducted at the leadership of the Reconstruction Agency in fiscal 2016, some 16 pct to 44 pct of evacuees from three towns and a village near the plant who gave responses said they wanted to return to their homes. (Jiji Press)