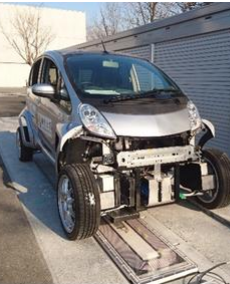 April 6, 2017
Tokyo- 
A Japanese research team said
Wednesday
that it has successfully transmitted electricity to a moving in-wheel electric vehicle motor from coils embedded in the road surface through magnetism, in a world first.
The research team is composed of the University of Tokyo, electronics and machinery maker Toyo Denki Seizo K.K.  and bearing producer NSK Ltd.
Current electric vehicles take time to charge batteries from cables. If coils transmitting electricity were installed in intersections and expressway areas where vehicles need power to start moving or accelerate, vehicles could get power while in motion and at rest, according to Hiroshi Fujimoto, associate professor at the university.
The test was conducted at the university's Kashiwa campus in Chiba Prefecture, east of Tokyo.
The team installed motors in the front wheels of a commercially available electric vehicle and equipped the vehicle with a battery and a capacitor that can make repeated rapid charges and discharges.
The team transformed electric power to magnetism for exchanges between the battery and the capacitor, as well as the capacitor and the coils on the road surface.
In the test, the coils transmitted power only when the electric vehicle moved on the road. The vehicle sent the power received to the capacitor first to drive the motor and then charges the battery if there is spare power.
No vehicle with such an in-wheel motor is on sale commercially, but such vehicles are energy-efficient and they can be powered in stable way.
As the vehicle receives electricity while moving, its battery capacity can be reduced, lowering weight and cost, according to the research team. (Jiji Press)