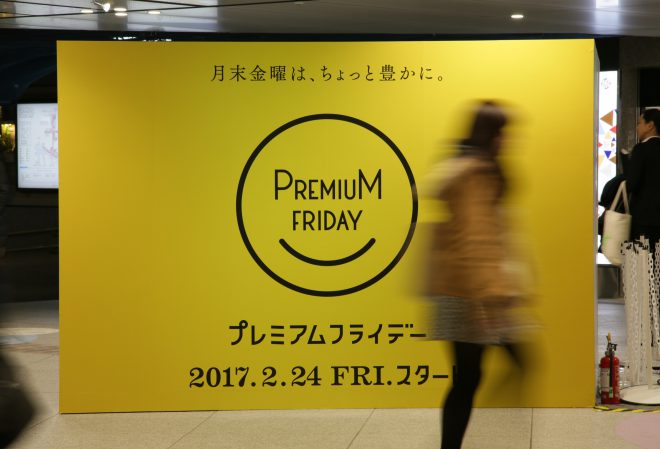 February 22, 2017
TOKYO- A kickoff event was held in Tokyo on Tuesday, ahead of the start on Friday of Japan's "Premium Friday" public-private nationwide campaign aimed at stimulating consumer spending. "We hope to revive the Japanese economy by encouraging the public to spend more," Kunio Ishizuka, vice chairman of the Japan Business Federation, or Keidanren, said at the event.
Some 3,000 companies and organizations have supported the campaign, which calls for finishing work early on the last Friday of every month and enjoying shopping and wining and dining.
Participating companies and local governments have come up with various events, services and products in a bid to stimulate sluggish personal spending.
Travel agency JTB Corp. will launch a package tour that leaves Tokyo
on Friday
afternoon and allows participants to play curling in the resort town of Karuizawa in Nagano Prefecture, central Japan.
Major cosmetics maker Kose Corp. will offer a makeup lecture by professionals.
The central Japan city of Shizuoka is organizing a joint project with local shops, including a lecture on camera technique by a photo shop owner.
Projecting that many people will go home early, major retailer Aeon Co.  will prepare luxury foods.
Meanwhile, Japan's ruling coalition agreed
Tuesday
to push back a proposed House of Representatives committee vote on the government's fiscal 2017 budget bill from
Friday
to next week in view of the "Premium
Friday
" nationwide campaign starting this week.  (Jiji Press)