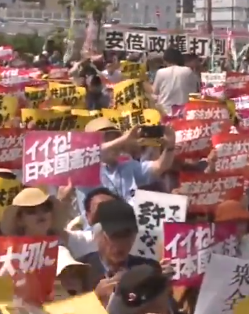 May 4, 2017
Tokyo- 
People supportive of revisions of the Japanese constitution and those opposing such moves held respective rallies in Tokyo
on Wednesday
, which marked the 70th anniversary of the effectuation of the fundamental law.
The meeting of the anti-constitutional revision camp was held at the Tokyo Rinkai Disaster Prevention Park in Koto Ward, bringing together heads and other senior officials of four opposition parties--the Democratic Party, the Japanese Communist Party, the Social Democratic Party and the Liberal Party.
"The constitution that we have preserved for the last 70 years is now in jeopardy," said Renho, leader of the DP, the largest of the four parties. "We must absolutely oppose any change for the worse of the constitution of the prime minister, by the prime minister and for the prime minister," she said.
Prime Minister Shinzo Abe, a strong advocate for constitutional amendments, expressed his hope to see a revised constitution take effect in 2020, in a video message sent in his capacity as leader of the ruling Liberal Democratic Party to a meeting held
on Wednesday
by a private-sector organization calling for changes in the national charter. (Jiji Press)