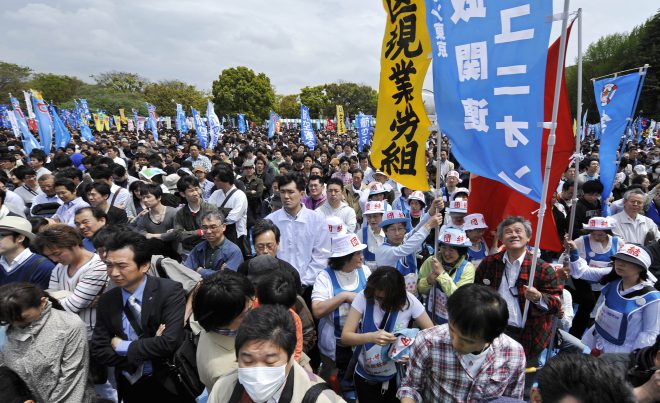 February 24, 2017
TOKYO- The Japanese Trade Union Confederation, or Rengo, plans to accept the government's proposal to limit busy-season overtime to 100 hours per month, according to informed sources.
Although Rengo has sought a stricter restriction, the largest national trade union center in Japan is now having in-house discussions with a view to accepting the 100-hour limit if it is clarified that the purpose of setting the overtime cap is to eliminate deaths caused by overwork, not to send a message that companies can force employees to do such long work, the sources said.
Rengo also hopes to win a commitment by the management side, which is eager to accept the government proposal, to strive toward eradicating overwork deaths together with workers, they said.
On the issue of whether to keep allowing the transport and construction industries to let workers work unlimited extra hours, Rengo will demand that an overtime limit be introduced in the industries after a certain grace period.
Meanwhile, it plans to agree to exempt research and development jobs from overtime restrictions on condition that measures be taken to prevent employers from easily expanding the scope of the exceptional treatment, the sources also said.
Rengo President Rikio Kozu is expected to meet with Sadayuki Sakakibara, chairman of the Japan Business Federation, or Keidanren,
on Monday
to mainly discuss the overtime cap issues. The labor and business leaders aim to strike a comprehensive deal by the end of March.
The labor and management sides have already agreed that overtime be capped at 720 hours a year, or 60 hours on average per month, as proposed by the government.
Based on a final Rengo-Keidanren agreement, the government hopes to introduce a bill to revise the labor standard law later this year so it can implement the overtime restrictions in fiscal 2019. (Jiji Press)