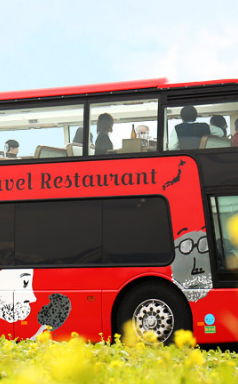 May 12, 2017
NIIGATA- Tours using "restaurant buses" that allow participants to enjoy cuisine and visit farms that produced food used in the meals, as well as sightseeing spots, are catching on in Japan about a year after the service was launched in the city of Niigata in April last year.
For this year, the city, the capital of Niigata Prefecture, central Japan, came up with a tour in which participants can pick crops at farms.
Currently, two restaurant buses are in service. Willer Group, an express bus operator in the western Japan city of Osaka, made the vehicles by renovating old buses.
On the lower floor of the double-decker buses is a kitchen, while the upper deck, with a retractable roof, has 25 seats with tables. Passengers can enjoy full-course meals while enjoying the view from the deck.
The buses have so far been used as well in Kumamoto Prefecture, southwestern Japan, and the southernmost prefecture of Okinawa.
Also, a flurry of inquiries about the restaurant buses have come from many other parts of the country.
The kitchen, which is as high as only 1.6 meters, has electric cooking equipment. (Jiji Press)