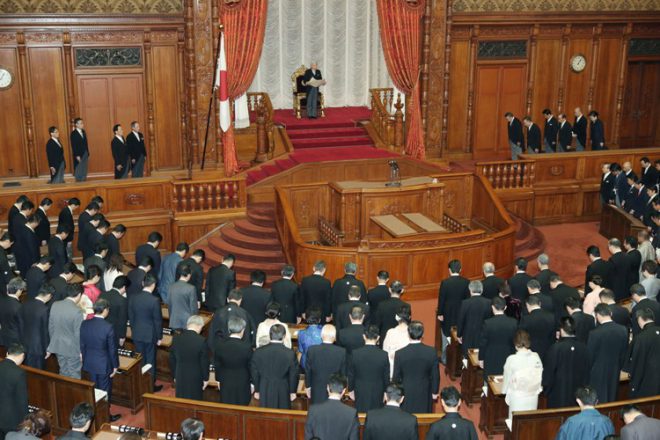 February 20, 2017
TOKYO- Japan's ruling and opposition camps remained split over how to enable Imperial abdication, at hearings by the leaders of both chambers of the Diet, the country's parliament, on Monday.
While the ruling Liberal Democratic Party supported a special one-time law to allow only current Emperor Akihito to step down, the main opposition Democratic Party proposed a permanent system to let the current and future Emperors abdicate.
Interparty talks are expected to get into full swing before the Diet heads and their deputies formulate the Diet's opinion on the matter by mid-March. The talks are seen focusing on the legal framework for realizing abdication.
"It is extremely difficult to set appropriate conditions" for abdication under a permanent system, LDP Vice President Masahiko Komura said in a meeting with the Diet leaders.
In response to a claim by the DP that Imperial abdication under a special law could be unconstitutional, Komura said, "As there is a doubtful point, we need to clarify the links among the current constitution, the Imperial House Law and the proposed law."
Regarding measures to ensure stable Imperial succession, which are also at issue, Komura said, "It is a problem that should be examined separately and carefully."
Komeito, the LDP's junior coalition partner, also conveyed to the Diet leaders that it is "appropriate" to enact a special law allowing only the current Emperor to abdicate.
Meanwhile, the DP made clear its position that the Imperial House Law should be revised to establish a permanent abdication system.
"We believe abdication can be realized only through a revision to the Imperial House Law," DP Secretary-General Yoshihiko Noda told a press conference after the party's meeting with the Diet leaders.
He said "the most basic approach" would be a revision to Article 4 of the law, which stipulates, "Upon the demise of the Emperor, the Imperial heir shall immediately accede to the throne."
Akira Koike, head of the secretariat of the Japanese Communist Party, also conveyed to the Diet leaders his party's position that the law should be revised.
Regarding the LDP's opinion, House of Representatives Speaker Tadamori Oshima said that there is "room for discussion" among ruling and opposition parties. He urged the LDP to harmonize views with the DP and other parties.
The LDP is looking at adding a new clause to the Imperial House Law that would provide a basis for the proposed special act.
Noda asked the Diet leaders to create opportunities for ruling and opposition parties to get together for discussion. Oshima replied that such gatherings will be held appropriately.
Toranosuke Katayama, coleader of opposition party Nippon Ishin no Kai, expressed the view that a special law allowing only the current Emperor to abdicate should be established after a revision to the Imperial House Law to provide a basis for such a new law. (Jiji Press)