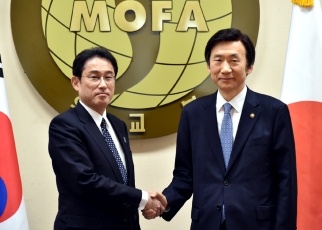 January 13, 2017
SEOUL
- South Korea Foreign Minister Yun Byung Se
on Friday
weighed in on a bilateral spat with Japan over a controversial statue in front of the Japanese Consulate in Busan, saying the installation of an object in front of a foreign mission is "undesirable," according to Yonhap News Agency.
"It's a general position in the international society that it is undesirable to set up any facility or models in front of diplomatic missions or consular missions," he was quoted as saying during a parliamentary session.
He also acknowledged the diplomatic countermeasure taken by Japan to the installation of the statue on Dec. 30, which is similar to one placed in front of the Japanese Embassy in Seoul in 2011. Tokyo has recalled its ambassador to South Korea, Yasumasa Nagamine, and its consul general to Busan, Yasuhiro Morimoto, to protest the latest statue, which it claims contravenes a 2015 bilateral agreement.
Yun added that while the South Korean government is not opposed to the installation of statues dedicated to women forced to work in Japan's wartime brothels, "as for the place (for erecting the statues) there is a need for us to gather wisdom."
Also
Friday
, a local newspaper reported that former U.N. Secretary General Ban Ki Moon, who returned South Korea
on Thursday
, has indicated that 1 billion yen disbursed by Japan to South Korea under the landmark agreement should be returned if linked to removal of the statues.
"It's wrong if the 1 billion yen is related to the removal of the girls' statues. Then the money should be sent back (to Japan)," Ban told the JoongAng Ilbo newspaper during his flight home
on Thursday
.
Under the agreement, the Japanese government disbursed the 1 billion yen last year to a South Korean fund to help former so-called "comfort women" and their families. Under the pact, South Korea has said it would strive to solve the issue of the statue near the Japanese Embassy in Seoul "in an appropriate manner."
Ban, widely considered to be eyeing a run for South Korea's presidency, said "it would be nonsensical" if the country removed the statues in exchange for the financial contribution from Japan.
While the 72-year-old has yet to announce his presidential bid, many believe he will do so on the back of high popularity. He is neck-and-neck with frontrunner Moon Jae In of the main opposition Democratic Party of Korea.
In an interview with Kyodo News earlier this week, Japanese Prime Minister Shinzo Abe reiterated the need for South Korea to "sincerely implement the promises" it made under the 2015 agreement.
In addition to the temporary withdrawal of the diplomats, Japan has also decided to halt high-level economic talks with South Korea in response to the Busan statue.
The 2015 accord has been controversial among former comfort women and the South Korean public, who feel the victims' voices have been ignored and Japan's latest apology over the issue was inadequate.
Apparently reflecting such public sentiment, the statue in Seoul has yet to be removed, while a civic group erected the new statue in Busan. (Kyodo News)