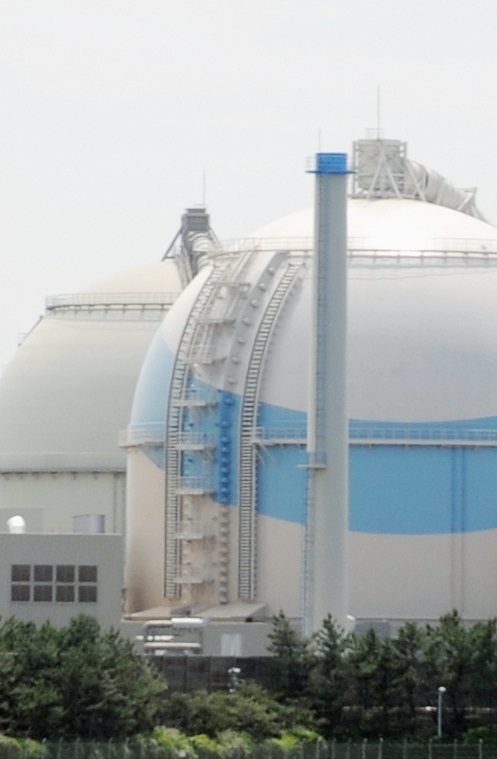 April 25, 2017
SAGA- Saga Governor Yoshinori Yamaguchi
on Monday
gave his consent to Kyushu Electric Power Co.'s plan to restart the No. 3 and No. 4 reactors at its Genkai nuclear power plant in the southwestern Japan prefecture.
The governor's approval means that the company has completed procedures to gain local consent for bringing the reactors back online. The mayor of the host town of Genkai, and the municipal and Saga prefectural assemblies have already given the green light to the move.
The reactors are seen resuming operations this summer at the earliest, after further screenings by the Nuclear Regulation Authority and preuse checks.
"It was a very heavy decision based on thorough consideration," Yamaguchi told a press conference at the prefectural government office, noting that the prefecture listened to opinions on the matter from the heads of all municipalities in Saga.
"While I'm strongly resolved to work for a society that does not rely on nuclear plants, I had no other choice (but to approve the restart of the two Genkai reactors) in the current circumstances," he said.
"We need to depend on nuclear power for part of our electricity procurement," Yamaguchi said, suggesting that stable electricity supply from renewable energy is not guaranteed.
But he said, "I wouldn't approve any plan to build a new nuclear plant," noting that it is natural for the public to have concern about nuclear power.
Yamaguchi is the fourth prefectural head to approve a nuclear reactor restart, following the governors of Kagoshima, Ehime and Fukui prefectures.
At Kyushu Electric, the No. 1 and No. 2 reactors at the Sendai nuclear power plant in the city of Satsumasendai in Kagoshima earlier received the approval from Kagoshima's governor and other local authorities and are now in operation.
In January, the NRA concluded that the No. 3 and No. 4 Genkai reactors comply with Japan's new regulatory safety standards, which were introduced in July 2013, after the March 2011 accident at Tokyo Electric Power Company Holdings Inc.'s  disaster-stricken Fukushima No. 1 nuclear plant in northeastern Japan. (Jiji Press)