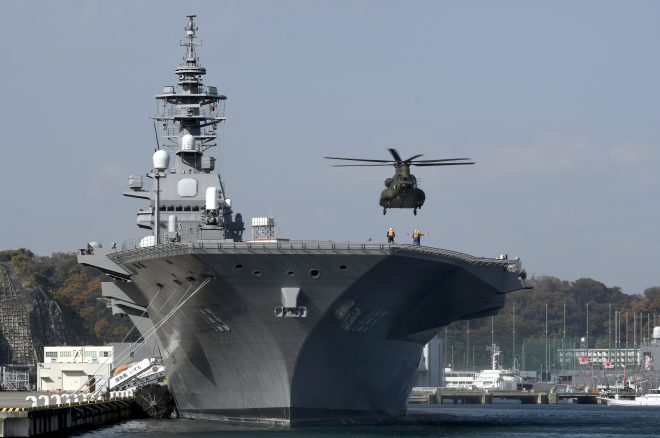 May 4, 2017
Tokyo- The Japanese Self-Defense Forces completed on Wednesday its first-ever mission to guard a US warship under Japan's national security laws that went into force in March 2016, Japanese and US government sources said.The Maritime SDF's Izumo and Sazanami destroyers ended the escort of the Navy's USNS Richard E. Byrd replenishment vessel in Pacific waters east of the Nansei chain of southwestern Japanese islands in the evening, the sources said. Such an escort mission was made possible under the new Japanese legislation.
The Izumo joined the US Navy vessel in waters off the Boso Peninsula in eastern Japan
on Monday
afternoon. The Izumo and the Richard E. Byrd then sailed together while carrying out joint training.
The Sazanami joined the Izumo for the escort mission after leaving the MSDF's Kure base in Hiroshima Prefecture, western Japan,
on Tuesday
morning, the sources said.
The latest operation, conducted in the Pacific where North Korea's missile threat is relatively low, was apparently aimed at emphasizing the alliance between Japan and the United States, analysts said.
A similar mission may be assigned to an SDF Aegis ship with a sophisticated surveillance capability for guarding a fleet of US warships deployed in the Sea of Japan, they said.
The Izumo and the Sazanami will head for Singapore to take part in an international fleet review to be held there on
May 15
.
The 210-meter Richard E. Byrd, carrying about 130 crew members, is expected to move to the Sea of Japan to supply fuel, ammunition and other items to a US Aegis ship in a surveillance mission against North Korea's ballistic missile launches. It may also replenish vessels engaged in a mission with the nuclear-powered aircraft carrier USS Carl Vinson, informed sources said.  (Jiji Press)