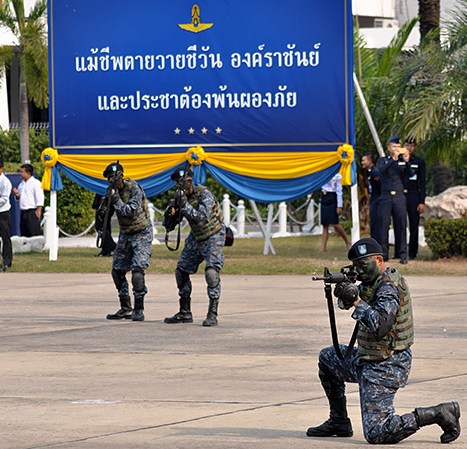 February 20, 2017
RAYONG- 
Self-Defense Forces personnel conducted a drill in Thailand
on Sunday
for the protection of Japanese nationals aboard, a task made possible under Japan's national security laws that came into force last year.
The first such drill outside Japan, carried out at locations including U-Tapao Royal Thai Navy Airfield in Rayong Province, central Thailand, was shown to journalists.
The exercise was joined by about 100 SDF personnel now in Thailand to take part in the annual Cobra Gold multinational military exercise as well as staff members of Japan's Foreign Ministry and the Japanese embassy in Bangkok.
Assuming a worsened security situation outside Japan after a disaster, the SDF personnel simulated the ground transportation of Japanese and US nationals for airlifting to Japan by an Air SDF transport airplane.
The exercise also assumed a situation in which SDF personnel face a decision on whether to use weapons, as permitted under the security laws.
In the land transportation drill, SDF staffers simulated running up against a group of people who set up a barricade and demand transit fees. Warning of the use of force by loudspeaker, they exercised getting rid of the group and removing the blockade.
The drill opened to the media involved no simulated use of arms.
Col. Hiroyuki Kawaguchi of the Joint Staff Office, who oversaw the exercise, told reporters after the drill, "We had a meaningful exercise as we worked in close collaboration with the Foreign Ministry and the embassy." (Jiji Press)