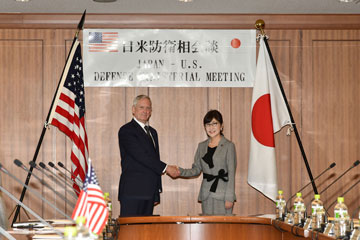 February 5, 2017
Tokyo-Japanese Defense Minister Tomomi Inada
on Sunday
ruled out the possibility of the nation's Self-Defense Forces participating in the U.S. military's operations in the South China Sea.
At a meting in Tokyo
on Saturday
, Inada and U.S. Defense Secretary James Mattis agreed to enhance their countries' engagement in the South China Sea.
In a television program
on Sunday
, Inada said: "I told Secretary Mattis that Japan supports the U.S. military's freedom of navigation operation in the sea. But the SDF will not be sent to the area."
"Japan will play its role through defense cooperation and training," she said, signaling Tokyo's intention to help countries around the South China Sea improve their defense capabilities. China and some Southeast Asian nations have territorial disputes in the sea.
Inada added that Japan will consider not only increasing its defense budget but reinforcing its defense capabilities in terms of quality. (Jiji Press)