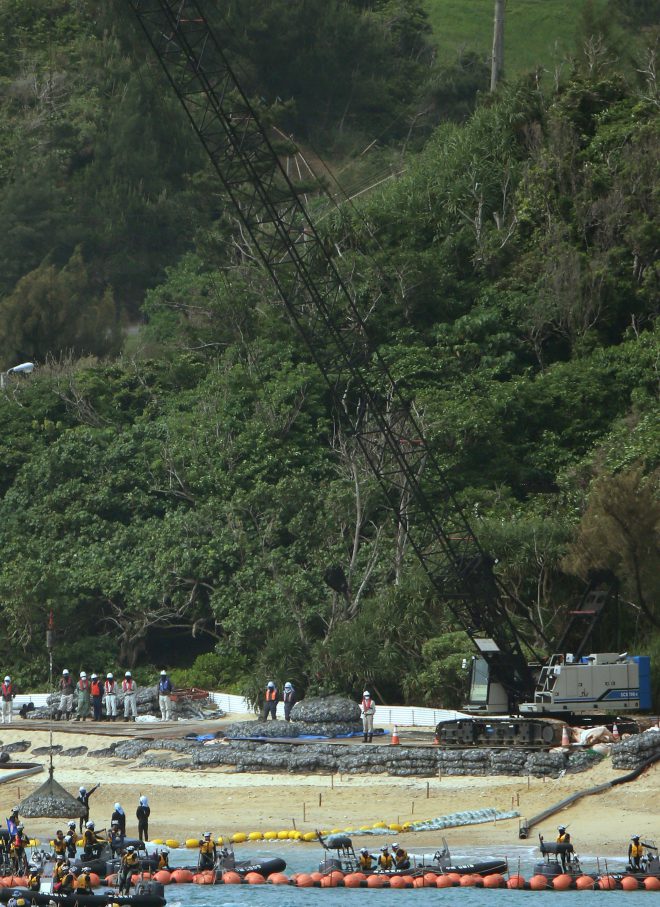 April 25, 2017
NAGO, OKINAWA  PREF., Jiji- The Japanese government started on Tuesday seawall construction work for land reclamation at the Henoko coastal area in Nago, Okinawa Prefecture, to relocate the US Marine Corps' Futenma air base. The work to establish seawalls that will surround the planned landfill site marks a milestone in the controversial relocation project that is based on an agreement between Tokyo and Washington in 1996 on the return to Japan of the site of the Futenma base in Ginowan in the southernmost prefecture.
Once full-fledged landfill work to build a replacement facility for the Futenma base begins, it will be difficult to restore the Henoko area to its original state.
The central government's move "goes against the public opinion," the Okinawa prefectural government said.
At a news conference in Tokyo, Chief Cabinet Secretary Yoshihide Suga said that the launch of the seawall construction work is "the first sure step toward the full return of the Futenma base, which has been desired by many people."
The central government "will engage in the relocation work steadily and swiftly, paying maximum attention to the local natural and living environments," Suga also said.
On Tuesday
, stones that will serve as the foundation of the seawalls were dropped into the sea off Henoko, amid chants of protest from demonstrators on boats.
The seawalls will enclose the US air base to be built under the relocation project.
If things progress without a hitch, the government will be able to start carrying sand and stones to the site as early as spring next year so that it can start the land reclamation work. It hopes to finish the work in about five years.
The government initially planned to start the seawall construction work in mid-April. But the work was delayed in view of the mayoral race in the Okinawa city of Uruma
on Sunday
. (Jiji Press)