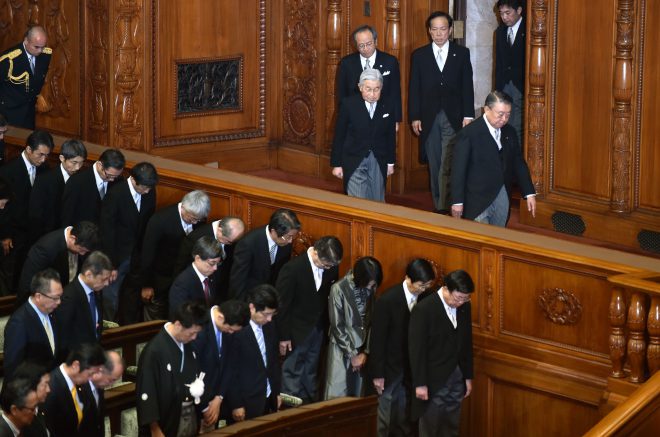 March 14, 2017
TOKYO- The Diet, Japan's parliament, is now expected to enact during the ongoing session a special law to allow Emperor Akihito to step down, after the main opposition Democratic Party expressed its readiness
on Monday
to accept the one-off law.
The chiefs and deputy chiefs of the Diet's two chambers are set to propose creating a special abdication law that will apply only to the 83-year-old current Emperor, in line with the government's position.
The top Diet officials aim to submit the proposal to Prime Minister Shinzo Abe
on Friday
. The government is expected to submit a related bill to the Diet after the holidays in May.
In separate meetings with representatives from political parties
on Monday
, House of Representatives Speaker Tadamori Oshima presented a plan for a general meeting of party representatives on the issue
on Wednesday
.
Oshima told them that he aims to win support from the parties for the abdication proposal
on Friday
.
The parliamentary proposal is expected to call for a supplementary provision in the Imperial House Law to give a basis for the one-off abdication law.
The proposal is seen demanding that the law provision clearly should include the word "abdication," reflecting the DP's position of seeking a revision to the Imperial House Law.
At a press conference
on Monday
, DP Secretary-General Yoshihiko Noda signaled the party's readiness to accept the envisaged special abdication law. "We are effectively discussing a revision to the Imperial House Law now," he said. In their meetings with the top Diet officials, representatives from the ruling Liberal Democratic Party and its coalition partner, Komeito, proposed that the abdication law note the background of the legislative measure, including the feeling of the Emperor and the people's sympathy, in order to clearly indicate that he would not be forced to abdicate.
The ruling bloc also proposed that the government waste no time considering measures to ensure stable Imperial succession.
The DP called on the Diet to reach a conclusion on the matter in about a year. LDP Vice President Masahiko Komura said the government should issue an ordinance, separate from the abdication law, to specify when the Emperor will step down.
An advisory panel set up by the government to discuss the Emperor's possible abdication is scheduled to resume its own discussions on
March 22
and release its final proposals on
April 21
.
In a rare video message broadcast in August last year, Emperor Akihito signaled his hope to hand over the throne to his eldest son, Crown Prince Naruhito, due to concern over his advancing age and declining physical condition. No succession from a living Emperor has taken place for about 200 years. (Jiji Press)