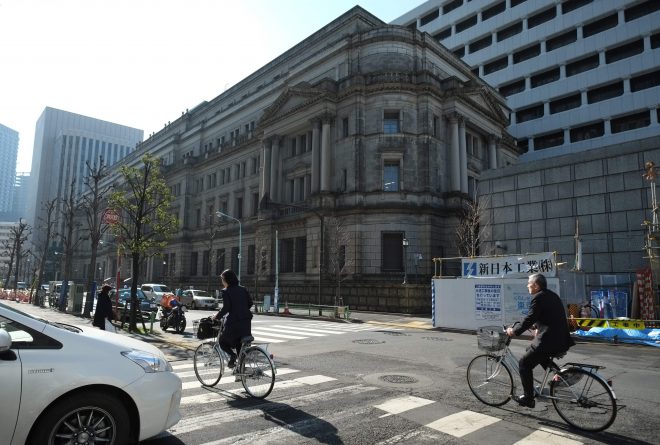 April 9, 2017
TOKYO- 
Speculation is growing over who should succeed Bank of Japan Governor Haruhiko Kuroda, who has only one year to go before the end of his term on
April 8, 2018
.
The BOJ is unlikely to attain its 2 pct inflation target before his five-year term expires. From Kuroda, the successor will take over not only the helm of the central bank but also the elusive task of achieving the target.
Once the target is met, the successor will face an even more difficult problem of how to realize a smooth exit from the unprecedented mix of unorthodox monetary policy measures including massive government bond purchases, negative interest rates and a long-term interest rate target.
"I have full trust in Governor Kuroda's monetary policy," Prime Minister Shinzo Abe told a House of Councillors Budget Committee meeting
Jan. 30
this year. "I hope this policy line will be firmly maintained."
Abe's words of endorsement, given when he was asked what kind of person is appropriate for the top central bank post, have strengthened speculation that Kuroda may be reappointed.
But no one has held the post for 10 years since the end of World War II. If Kuroda, currently 72, serves for another five years, he would reach 78 at the end of the second term.
The BOJ governor needs to attend parliamentary sessions and make oversea business trips frequently. An economist has questioned whether Kuroda would be able to maintain physical strength.
Among BOJ officials who have worked for the bank throughout their careers, Deputy Governor Hiroshi Nakaso, 63, who have a lot of contacts with overseas central bankers and financial officials, and Executive Director Masayoshi Amamiya, 61, known for his expertise in monetary policy planning, are viewed as likely candidates.
A BOJ official well versed in financial markets should become the next governor, because the bank may have to deal with interest rate spikes during its future exit from the current monetary policy regime, a market participant said. (Jiji Press)