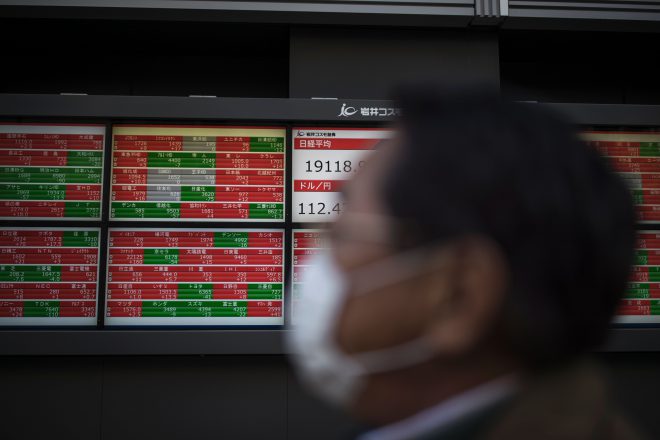 March 23, 2017
TOKYO- Stocks turned slightly higher on the Tokyo Stock Exchange
Thursday
, supported by buybacks after the previous day's tumble.
The 225-issue Nikkei average gained 43.93 points, or 0.23 pct, to close at 19,085.31.
On Wednesday
, the Nikkei average gave up 414.50 points, suffering the biggest closing loss since Donald Trump's victory in the U.S. presidential election in November last year.
The TOPIX index of all first-section issues ended up 0.21 point, or 0.01 pct, at 1,530.41, after losing 33.22 points the previous day.
The key Nikkei average struggled for direction during the morning session. Around midmorning, it fell below 19,000 for the first time in about three weeks on an intraday basis but was soon buoyed by buybacks. The Nikkei moved on the sunny side almost throughout the afternoon session.
Investor expectations for the Bank of Japan's purchases of exchange-traded funds underpinned the market's downside, brokers said.
They also said trading lacked vigor particularly in late afternoon, as a wait-and-see mood grew ahead of a U.S. House voting on a replacement plan for Obamacare or the health care act signed by previous U.S. President Barack Obama.
Investors were worried about a possible delay in the U.S. administration's implementation of fiscal and economic stimulus measures pledged by Trump "if the vote is put off or the plan is rejected," said Yoshihiko Tabei, chief analyst at Naito Securities Co.
A bank-affiliated securities firm official warned that Trump's failure to get House Republicans united to vote to repeal and replace Obamacare would lead to selling of U.S. shares as well as the dollar and deal a fresh blow with Tokyo stocks.
Despite the key market gauges' advances, falling issues outnumbered rising ones 1,037 to 824 on the TSE's first section, while 149 issues were unchanged.
Volume decreased to 1,759 million shares, from
Wednesday's
2,055 million shares. (Jiji Press)