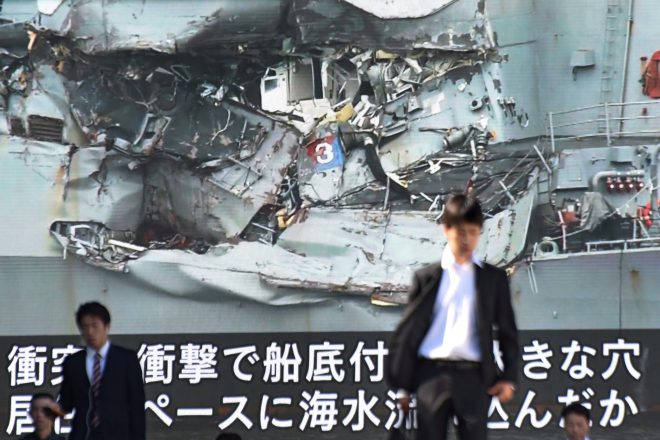 June 30, 2017
YOKOSUKA, KANAGAWA PREF.- The US Navy plans to send the Aegis destroyer USS Fitzgerald, damaged in a recent collision with a Filipino container ship off central Japan, back to the US mainland for long-term repairs, informed sources said 
Friday
.
If the Fitzgerald returns to the United States, it will be difficult for Japan to investigate the Aegis destroyer and interview crew members to identify the cause of the accident, which occurred on June 17.
When the vessel will return to its home country will be decided after a final inspection at the Navy's Yokosuka base in Kanagawa Prefecture, eastern Japan, the sources said.
According to the Navy, the Fitzgerald's ammunition and fuel have been unloaded at the base. The Navy is examining the damage from the accident.
As it is unclear whether the ship will be able to sail by itself to the United States even after temporary repairs, the Navy is considering towing it with a larger vessel, according to the sources.
The collision off Izu Peninsula in Shizuoka Prefecture killed seven crew members of the US ship.
Under the Japan-US Status of Forces Agreement, the United States has the primary right to exercise jurisdiction over the destroyer, as the ship suffered the accident while on duty.
Together with the Navy, the US Coast Guard is investigating the collision. The Japan Transport Safety Board has asked the coast guard to cooperate in the probe.
Currently, an investigator from the US Coast Guard is in Japan questioning Fitzgerald crew members, according to Japanese government sources. (Jiji Press)