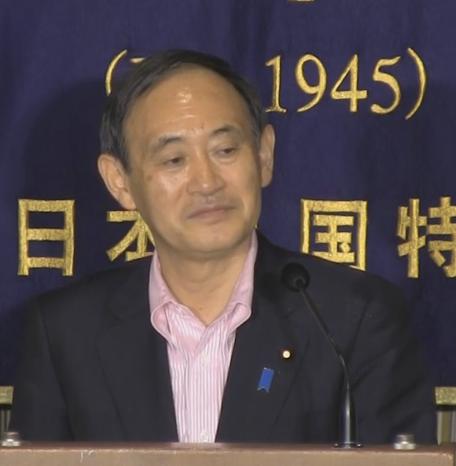 February 5, 2017
Iwakuni, Yamaguchi Pref.- Japan's Chief Cabinet Secretary Yoshihide Suga
on Sunday
sought local understanding for the planned transfer of carrier-based aircraft to the U.S. military's Iwakuni base in Yamaguchi Prefecture, western Japan, from the Atsugi base in Kanagawa Prefecture, south of Tokyo.
Meeting with Yamaguchi Governor Tsugumasa Muraoka and Iwakuni Mayor Yoshihiko Fukuda in the city of Iwakuni, the top central government spokesman asked for the local governments' cooperation for the relocation, saying, "We will give a full and detailed explanation so that we can obtain understanding from local communities concerned."
Showing the prefectural government's intention to reexamine possible impacts on residents around the Iwakuni base, Muraoka said, "We will make an appropriate decision" on whether to accept the planned relocation.
Suga said that the central government will sincerely take the local authorities' request for the implementation of measures to shore up the regional economy. "We will steadily work on the issue," he said.
After the talks, Suga told reporters, "The governor sought a new subsidy program, so we will study the request."
The Japanese and U.S. governments agreed on the relocation of the U.S. carrier-based aircraft as part of their road map on the realignment of U.S. forces in Japan, which was drawn up in 2006. The relocation will be carried out in stages, with completion slated for around May 2018. (Jiji Press)