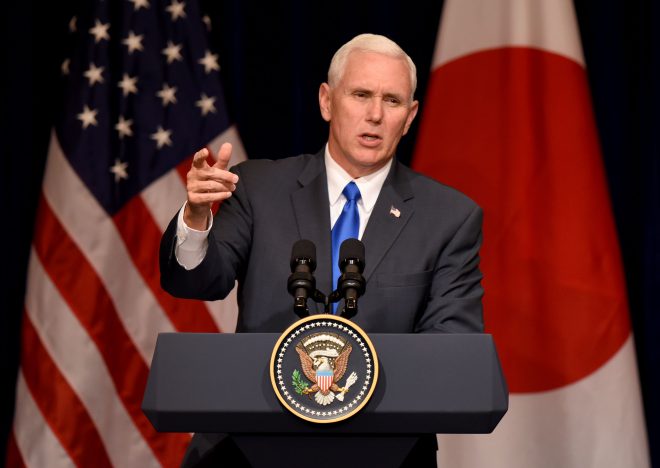 April 29, 2017
NEW YORK- The threat of a North Korean nuclear attack on Tokyo or Seoul is "real," US Secretary of State Rex Tillerson warned Friday.
With each nuclear test and missile launch, North Korea "pushes Northeast Asia and the world closer to instability and broader conflict," he said at a UN Security Council ministerial session on how to denuclearize the reclusive nation.
"Failing to act now on the most pressing security issue in the world may bring catastrophic consequences," Tillerson said, calling on all UN member nations to fully implement sanctions included in past Security Council resolutions against North Korea and "suspend or downgrade" diplomatic relations with Pyongyang.
He also underscored the need to increase North Korea's financial isolation.
For too long, the international community has been "reactive" in addressing North Korea, Tillerson said. "Those days must come to an end."
Japanese Foreign Minister Fumio Kishida said that the Security Council should quickly adopt an even more powerful resolution against North Korea if it makes further provocations, such as a nuclear test, calling on the council to consider imposing additional sanctions on the country as needed.
Noting that China accounts for 90 pct of North Korean trade, Tillerson said that China "alone has economic leverage over Pyongyang" and that its role is therefore "particularly important."
"We look forward to further actions that build on what China has already done," Tillerson said.
But Chinese Foreign Minister Wang Yi countered by saying that China is not the focus in issues on the Korean Peninsula. China does not have a key to resolving the problems, he said.
Russian Deputy Foreign Minister Gennady Gatilov said sanctions that will economically suffocate citizens and worsen the human rights situation should not be implemented.
The UN meeting was also attended by South Korean Foreign Minister Yun Byung-se and British Foreign Secretary Boris Johnson.
The administration of US President Donald Trump
on Wednesday
announced its policy of increasing pressure on North Korea through economic sanctions and diplomatic measures, saying that dealing with the country is a top priority issue.
At the ministerial session, Tillerson said, "We much prefer a negotiated solution."
But he added, "All options for responding to future provocation must remain on the table," reiterating the US stance of not ruling out a military option against North Korea. "Diplomatic and financial levers of power will be backed up by a willingness to counteract North Korean aggression with military action if necessary," he said.
In response to North Korea's ballistic missile launches and nuclear tests, the Security Council adopted six sanctions resolutions against the country in 2006 and later. But the sanctions have so far failed to stop North Korea's nuclear and missile development programs.
Earlier
on Friday
, the foreign ministers of Japan, the United States and South Korea held a trilateral meeting and confirmed the three countries' intention to work closely together in addressing North Korea. (Jiji Press)