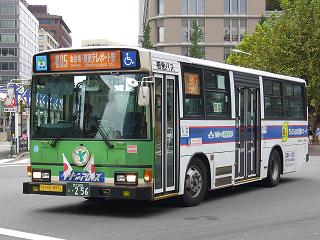 February 15, 2017
TOKYO- 
The Tokyo metropolitan government plans to introduce alphanumeric route displays for its bus services as early as in 2018, informed sources told Jiji Press
on Tuesday
.
The Tokyo government aims to attract more foreign users with the more accessible route displays ahead of the 2020 Tokyo Olympic and Paralympic Games. It also plans to call on other bus operators to follow suit.
The metropolitan government's transportation bureau currently operates 129 bus routes, and they are displayed by the combinations of kanji characters mainly showing places of terminals and numbers.
In the envisaged new system, alphabets representing places of terminals and numbers will show routes, according to the sources.
For example, the route connecting the west exit of Shinjuku station of East Japan Railway Co. and some other railway operators and Shindaita Station of Keio Corp.'s Inokashira Line will be shown as "SJ91," with SJ representing Shinjuku, the sources said.
The current route displays including kanji, which are familiar to passengers and bus drivers, will also be put together with the new alphanumeric displays, the sources said.
Meanwhile, the Tokyo government is finding it difficult to introduce the new system at its some 1,500 bus stops due to the frequent bus stop openings and closures, the sources said. Instead, it plans to show necessary information in more foreign languages at bus stops.
The average daily number of users of metropolitan government-operated buses has been on the decrease since peaking at some 1.3 million in fiscal 1972, because the five-day week system has been increasingly adopted in Japan and due to the launches of new train lines. The number has been below 600,000 in recent years. (Jiji Press)