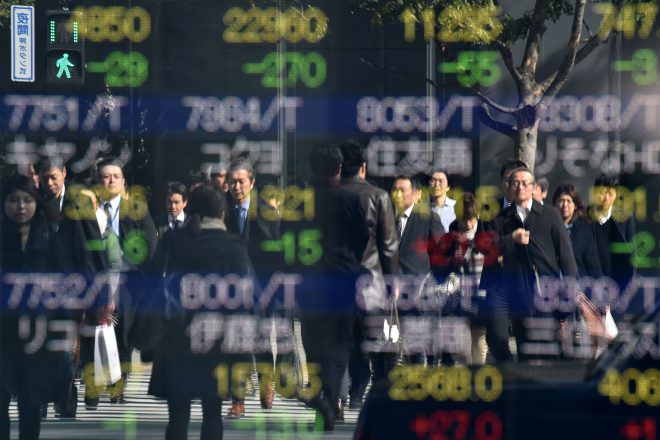 February 14, 2017
TOKYO- Stocks gained further ground on the Tokyo Stock Exchange Monday, with the closely-watched meeting between Japanese Prime Minister Shinzo Abe and US President Donald Trump now out of the way.
The 225-issue Nikkei average rose 80.22 points, or 0.41 pct, to close at 19,459.15.
On Friday
, the key market gauge jumped 471.26 points.
The TOPIX index of all first-section issues finished up 7.64 points, or 0.49 pct, at 1,554.20, after climbing 33.01 points the previous trading day.
Stocks got off to a firmer start, following US equities' strength
on Friday
and the yen's weakening against the dollar. The Dow Jones industrial average, the S&P 500 index and the tech-heavy Nasdaq composite index all hit record highs in New York
Friday
, helping the Nikkei average to briefly climb above 19,500.
Investors welcomed the outcome of the Abe-Trump meeting
Friday
, in which the U.S side did not criticize Japan over such matters as a weaker yen and the Bank of Japan's monetary policy, brokers said.
"As the Abe-Trump meeting ended in a friendly atmosphere, investors were relived for now," said Masashi Itoga of Mito Securities Co.'s Investment Information Department.
"Investors also took heart from the US market's strength on the back of growing hopes for tax cuts" after Trump last week said he will make a major tax announcement in the coming weeks, Itoga added.
But the market's upside was somewhat capped in the afternoon as the yen did not go down further, Itoga explained.
Investors remain cautious about the Trump administration's next moves as the friendly atmosphere of the meeting does not mean that he will not take any action against what he claims as currency devaluations, according to Itoga. (Jiji Press)