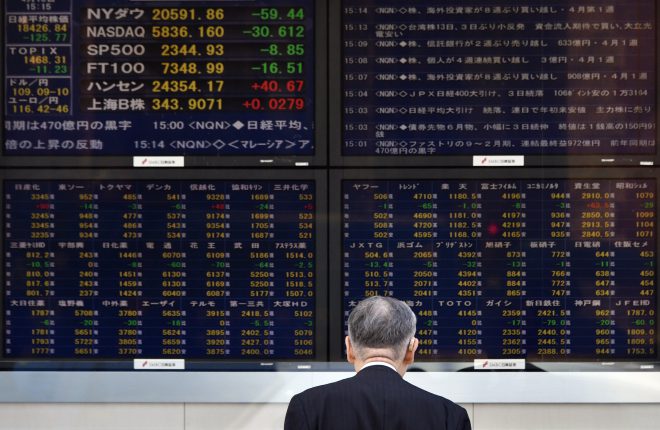 April 12, 2017
TOKYO - Stocks plunged on the Tokyo Stock Exchange Wednesday, dragged down by the yen's rise against the dollar amid growing geopolitical tensions. The 225-issue Nikkei average dived 195.26 points, or 1.04 pct, to close at 18,552.61, hitting its lowest finish since Dec. 7 last year. On Tuesday, the key market gauge lost 50.01 points.
The TOPIX index of all first-section issues ended down 15.56 points, or 1.04 pct, at 1,479.54, after falling 4.55 points the previous day.
Stocks met with selling almost across the board from the outset of
Wednesday's
trading, after US equities fell overnight with investors' risk appetite dissipated by US President Donald Trump's tweet suggesting the possibilities of a unilateral action against North Korea and an additional strike against Syria, brokers said.
Amid the spreading risk-averse sentiment, the dollar dropped to five-month lows below 110 yen, pushing down the key Nikkei average by more than 280 points in the morning session, they said.
The market resisted further falls in the afternoon but stayed deep in negative territory.
In the Twitter posting
Tuesday
, Trump said: "North Korea is looking for trouble. If China decides to help, that would be great. If not, we will solve the problem without them!"
"Investors have grown increasingly worried about an armed clash between the United States and North Korea," said Kenichi Hirano, market analyst at K Asset Co.
 "Now Tokyo market players don't take it (the possible military conflict) as someone else's affair," Hirano noted, pointing to media reports that Japan's Maritime Self-Defense Force is considering a joint drill with the nuclear-powered aircraft carrier USS Carl Vinson, now heading toward the Korean Peninsula.
A major securities firm official said that the Nikkei average seems to hit a bottom shortly, but without fresh incentives, it will likely be difficult for the market to fully rebound for the time being.
Falling issues overwhelmed rising ones 1,722 to 221 on the TSE's first section, while 70 issues were unchanged.
Volume grew to 1,924 million shares, from
Tuesday's
1,691 million shares. (Jiji Press)