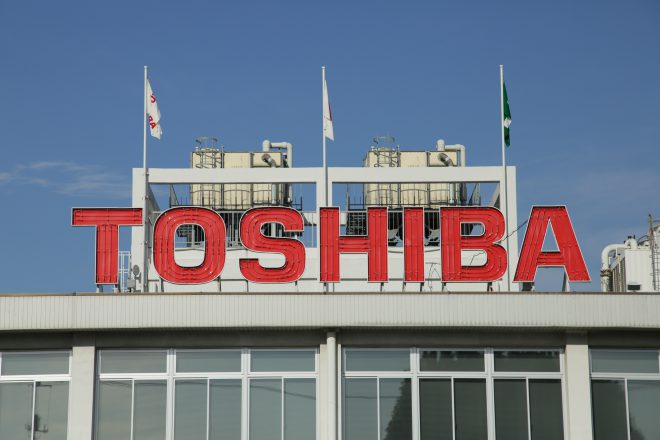 February 15, 2017
TOKYO- 
Toshiba Corp asked creditor banks
on Wednesday
to maintain their loans to the struggling Japanese electronics and machinery giant until the end of March.
The company, which has been struggling amid massive losses from its nuclear power plant business in the United States, made the request at a meeting to explain its severe financial conditions to the creditor banks.
Toshiba's three main creditor banks--Sumitomo Mitsui Banking Corp., Mizuho Bank and Sumitomo Mitsui Trust Bank--showed their intention to accept the request, informed sources said.
Meanwhile, other creditors, mainly regional banks, called on Toshiba to strengthen its internal control, the sources said, adding that the company was criticized for insufficient information disclosure.
Toshiba told the creditors that it fell into negative net worth, or an excess of debts over assets, at the end of December last year due to losses of over 700 billion yen from its nuclear business, the sources said.
The firm sought continued aid from them by presenting business reconstruction measures, including a plan to boost its capital.
Facing a series of credit rating downgrades stemming from rapid deterioration in its financial conditions, Toshiba is believed to have failed to meet the criteria for receiving bank loans.
If Toshiba is asked to make lump-sum loan repayments, the company would face difficulties reconstructing its operations.
Worries among creditor banks grew after Toshiba
on Tuesday
announced the postponement of its earnings report for April-December, scheduled for the day.
Instead, Toshiba the same day revealed estimated figures for the first three quarters of fiscal 2016 that have yet to be approved by its auditor, projecting a group net loss of 499.9 billion yen, worse than the year-before loss of 479.4 billion yen.
Toshiba is considering spinning off its strong flash memory operations and selling a stake of over 50 pct in the new company in an effort to reinforce its capital. (Jiji Press)