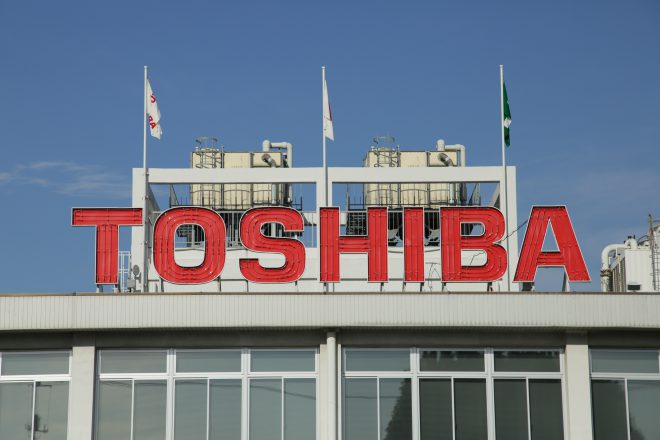 February 10, 2017
TOKYO- Struggling Japanese electronics and machinery giant Toshiba Corp. is reluctant to accept investment in its flash memory division from major memory makers, such as Western Digital Corp. of the United States, informed sources said Thursday.
Apparently behind this is Toshiba's concern that it may not be able to secure funds by the March 31 end of fiscal 2016 because a deal with a maor memory maker could cause antitrust problems, according to the sources. Toshiba and Western Digital, the biggest hard disk drive maker in the world, have a flash memory business tie-up.
Besides Western Digital, bidders for the Toshiba flash memory division include US private equity firm Bain Capital, South Korean semiconductor maker SK Hynix Inc. and Taiwanese contract electronics manufacturer Hon Hai Precision Industry Co., also known as Foxconn Technology Group, which acquired Japanese electronics maker Sharp Corp.  last year.
Toshiba plans to narrow down the list of bidders within this month while considering the possibility of accepting investment from multiple companies, the sources said.
Toshiba is expected to suffer a loss of up to 680 billion yen from its nuclear plant business in the United States.
In a bid to prevent its debts from exceeding its assets, Toshiba hopes to procure some 200 billion to 300 billion yen in fresh funds by receiving investment in a new company to be created by spinning off its lucrative flash memory division.
Toshiba aims to keep the investment ratio from the outside under 20 pct to maintain its control over the spin-off, the sources said.
But some of Toshiba's creditor banks are concerned that the company may have to seek additional investment in fiscal 2017 or later even if it manages to avoid negative net worth at the end of fiscal 2016 because its financial standing is very weak, according to the sources. (Jiji Press)