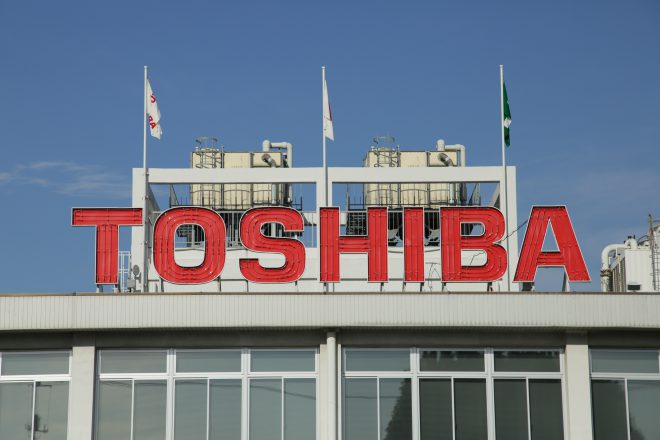 February 11, 2017
Tokyo - 
Struggling Japanese machinery and electronics giant Toshiba Corp. is considering booking slightly less than 700 billion yen in loss from its nuclear power plant business for April-December 2016, informed sources said
Friday
.
Toshiba plans to reflect the biggest possible loss it could suffer from the nuclear business, including almost all of some 680 billion yen from its US operations, in its book for the first three quarters of fiscal 2016, the sources said.
With its debts estimated to have exceeded assets as of the end of December, the company aims to replenish its capital by seeking fresh funds from outside its group for its profitable semiconductor operations, the sources said.
Specifically, Toshiba will spin off its flash memory division and seek investment worth 200 billion to 300 billion yen in the new company in order to avoid negative net worth at the
March 31
end of fiscal 2016.
Toshiba will announce its April-December earnings and the amount of loss from its US nuclear operations
on Tuesday
.
Toshiba President Satoshi Tsunakawa is set to hold a press conference the same day to explain the cause of the massive loss and a business reconstruction package, including steps to overhaul its nuclear business and sales of some of its assets, the sources said.
Toshiba announced in December that it could incur several hundreds of billions of yen in loss at US unit Westinghouse Electric Co., a nuclear power plant builder.
As part of measures to reconstruct its domestic nuclear operations, Toshiba plans to concentrate its human resources on maintenance work for and refurbishments of existing nuclear plants and decommissioning work for Tokyo Electric Power Company Holdings Inc.'s <9501> Fukushima No. 1 plant, where an unprecedented triple reactor meltdown occurred due to heavy damage from the March 2011 earthquake and tsunami, according to the sources.
In overseas markets, the company will withdraw from the construction of new nuclear power plants and instead will focus on nuclear plant designing and the production and delivery of reactors, the sources said. (Jiji Press)