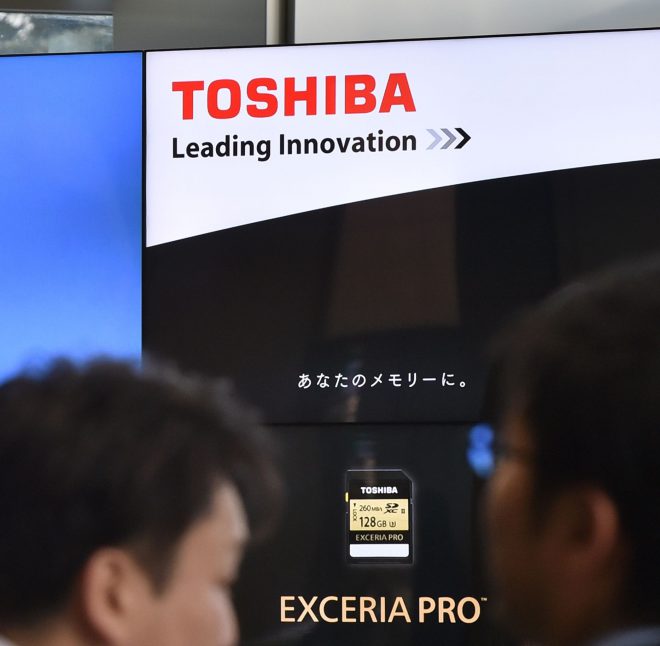 February 16, 2017
TOKYO- Toshiba Corp. is considering restarting the bidding process for its mainstay flash memory business, which it plans to spin off, as it is now looking to sell more than half of the unit, informed sources said
Wednesday
.
The troubled Japanese electronics and machinery maker already has received nearly 10 bids for a stake in the planned separate company, with the highest bid at some 400 billion yen.
The bidders include US-based Western Digital Corp., the world's largest hard disk maker, Hon Hai Precision Industry Co., the Taiwanese parent of Japanese electronics maker Sharp Corp.  and US and European investment funds.
Toshiba is contemplating holding talks with the existing bidders on further investment, soliciting for additional bids, or restarting the process from scratch, the sources said.
A change to the bidding scheme could delay deciding a sponsor. The Tokyo Stock Exchange may demote Toshiba from its first section to the second because the company is likely to have negative net worth at the end of its current business year on
March 31
due to the delay, the sources said.
Toshiba said
Tuesday
that unless capital-boosting steps are taken, the company's shareholder equity will drop to negative 150 billion yen at the end of March, leaving it with negative net worth.
The company initially planned to sell a stake of less than 20 pct in the flash memory unit, so that it can maintain control.
Due to bidders' unfavorable reaction to this plan, however, concerns were growing that the bidding process will end unsuccessfully.
At a press conference
on Tuesday
, Toshiba President and Chief Executive Officer Satoshi Tsunakawa did not reject the possibility of selling the flash memory unit entirely. "We will consider what the best option is with flexible mindset," he said. (Jiji Press)