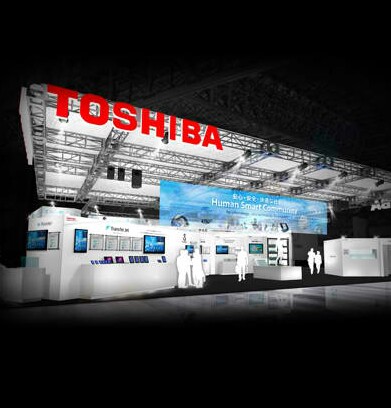 February 26, 2017
TOKYO- Struggling Japanese technology giant Toshiba Corp. decided at a board meeting
on Friday
to spin off its profitable flash memory business on
April 1
to pave the way for its reconstruction.
The company will seek approval for the move at an extraordinary general meeting of its shareholders on
March 30
.
It plans to restart a bidding process for the semiconductor operations, with a view to selling more than half of shares in the new company, to be called Toshiba Memory Corp.
Toshiba aims to raise about one trillion yen through the sale.
Buyer candidates will likely be narrowed down by around May.
Previously, Toshiba planned to sell a stake of less than 20 pct in the chip business.
Toshiba is expected to fall into negative net worth, or an excess of debts over assets, at the
March 31
end of fiscal 2016, because its shareholder equity is seen coming to minus 150 billion yen due to 712.5 billion yen in losses from its nuclear plant business and the planned capital replenishment through the spinning-off of the flash memory division is set to be delayed into fiscal 2017.
Subsequently, Toshiba stock will highly likely be demoted to the Tokyo Stock Exchange's second section from the first section.
Yasuo Naruke, corporate senior executive vice president of Toshiba, will double as president of Toshiba Memory, to be based in Tokyo.
In fiscal 2015, sales and operating profit from the business set to be spun off came to 845.6 billion yen and 110 billion yen, respectively.
Toshiba hopes to restart early next month the procedures to choose a buyer for the flash memory operations.
In the selection process, Toshiba is expected to take account of bid prices, when the bidders will invest in the spin off, and whether they will maintain related jobs and domestic production bases.
It plans to sell the flash memory business by the end of fiscal 2017.
In the previous bidding, conducted early this month, nearly 10 companies offered to buy the business. Among them were US hard disk drive maker Western Digital Corp., a Toshiba partner in memory chip operations, and Taiwanese contract electronics manufacturer Hon Hai Precision Industry Co., also known as Foxconn Technology Group, which acquired struggling Japanese electronics maker Sharp Corp. last year. (Jiji Press)