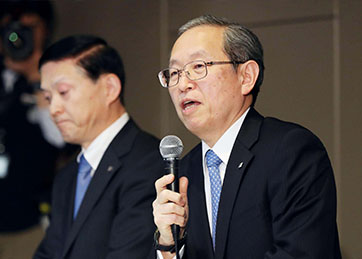 January 28, 2017
TOKYO- Toshiba Corp. said

Friday

that it will spin-off its top-earning flash memory business at the end of March, in a bid to make up for huge losses the group is facing from write-downs in its failing nuclear power business.
Toshiba said it will sell a stake of less than 20 percent in its flash memory business to ensure its liabilities do not exceed its assets in the current business year to March.
Earlier this month, Toshiba said it was looking to the state-owned Development Bank of Japan (DBJ) for financial assistance as the beleaguered electronics maker was likely facing a far bigger write-down than initially expected on its struggling nuclear business.
The impairment charges Toshiba is facing of up to 700 billion yen (6.2 billion U.S. dollars) could completely cancel out the company's shareholder equity, sources familiar with the matter said

Friday

.
Toshiba had previously factored in losses estimated at being 500 billion yen, but owing to unfavorable currency exchange rates and the losses being calculated in U.S. dollars, the asset impairment charges have skyrocketed.
A new stock offering to raise necessary funds may not be an option, however, for Toshiba, as its shares were placed on a "securities on alert" watchlist by the Tokyo bourse in September 2015, following an accounting scandal, which had initially dented the company's reputation, prior to the huge impairment costs.
Toshiba's involvement in one of Japan's largest-ever accounting scandals, saw the multinational conglomerate involved in padding its profits by 152 billion yen between 2008 and 2014, leading to its chief, and half of its board resigning, as the firm was fined an unprecedented 60 million U.S. dollars.
A spokesperson for Toshiba said the firm is possibly planning a cash infusion as part of a broader spinoff plan, with the electronics maker looking to sell a stake of as much as 20 percent in its high-yielding chip business to the tune of 300 billion yen.
While the firm's NAND-type flash memory business has become a global industry standard, with the memory devices used in technology such as smartphones around the world and estimated to be worth 2 trillion yen, it's nuclear business has failed in a number of areas, both at home and abroad.
Particularly in the wake of the 2011 Fukushima nuclear crisis, Toshiba has been struggling to secure new orders and the firm said it is facing billions of U.S. dollars in write-downs at its U.S. nuclear unit Westinghouse Electric Co.
Toshiba's chip operation booked an operating profit of 110 billion yen on sales of 845.60 billion yen in the fiscal year that ended March 2016. This was at a time when the overall conglomerate logged a group operating loss of 708.74 billion.
With Toshiba's board approving the spin-off plan

on Friday

, the idea will likely see a partial sale to Western Digital Corp., which has already invested in Toshiba's dedicated Yokkaichi flash memory plant in Mie prefecture, as well as accepting investments from third-parties, including private equity firms.
Toshiba's financial backers have agreed to float the embattled company through February despite further loans possibly becoming impossible due to credit downgrades and its liabilities exceeding its assets.
Toshiba, who employs 190,000 people, is said to be looking to raise 300 billion yen in cash, sources close to the matter said.  (Xinhua News)