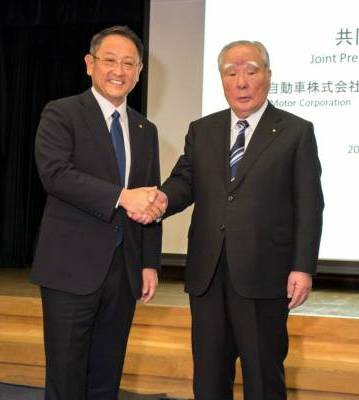 February 5, 2017
Tokyo- Toyota Motor Corp. and Suzuki Motor Corp. have reached a broad agreement to form a comprehensive tie-up including the development of advanced technologies, it was learned
Saturday
.
The two Japanese automakers are aiming to accelerate their research and development activities through the tie-up at a time when competition for the development of autonomous driving and other new technologies is intensifying across the globe, sources familiar with the situation said.
Toyota and Suzuki will work out details after announcing the partnership possibly
on Monday
, the sources said.
Last October, the two companies unveiled plans to start talks on forging a tie-up.
They will also discuss the possibility of holding a small number of shares in each other, the sources said.
In addition, Toyota and Suzuki plan to mutually supply some vehicles in emerging markets, depending on needs in each region, the sources said.
But the partnership between Toyota and Suzuki could cause problems in light of the antimonopoly law, as Toyota made Daihatsu Motor Co., a rival of Suzuki mainly in the minivehicle market, a fully owned subsidiary in August last year.
Daihatsu and Suzuki will therefore continue selling vehicles under their respective brands after the Toyota-Suzuki partnership is forged, in order to keep the domestic automobile market competitive, the sources said.
In the automotive industry, competition is increasing for the development of self-driving cars, so-called connected cars with constant Internet access, and environmental technologies.
Cross-industry initiatives have recently been launched. Last month, Toyota, Suzuki and U.S. auto giant Ford Motor Co. set up a consortium on connected car technologies with U.S. and European information technology companies and others. (Jiji Press)