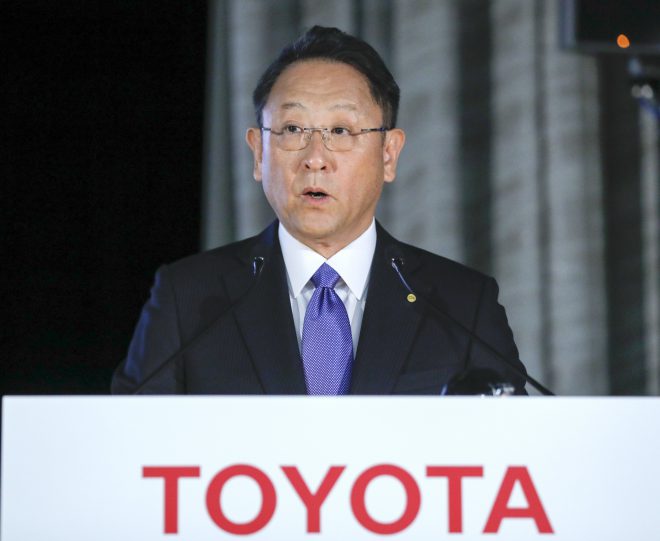 May 10, 2017
Tokyo- Toyota Motor Corp. said Wednesday that its group sales and profits are projected to fall for the second straight year in fiscal 2017, due to a rise in research and development costs and the yen's expected strengthening.
For the year ending in March 2018, the leading Japanese automaker expects its group sales to drop by 0.4 percent from the previous year to 27.5 trillion yen, its operating profit by 19.8 percent to 1.6 trillion yen and its net profit by 18.1 percent to 1.5 trillion yen.
For fiscal 2016, Toyota reported sales of 27,597,193 million yen, down 2.8 percent, an operating profit of 1,994,372 million yen, down 30.1 percent, and a net profit of 1,831,109 million yen, down 20.8 percent.
The company suffered drops in both sales and profits for the first time since fiscal 2011, when its operations were hit hard in the aftermath of the March 2011 powerful earthquake and tsunami that mainly hit northeastern Japan.
In fiscal 2016, Toyota was hurt by the yen's appreciation, which continued through the US presidential election in November last year.
The stronger yen pushed down its fiscal 2016 operating profit by 940 billion yen, according to the company.
"The results reflect our real ability," Toyota President Akio Toyoda said at a press conference in Tokyo. "This year, we're aiming to strengthen our competitiveness while looking squarely at our real ability."
Toyota assumes an exchange rate of 105 yen to the dollar in its fiscal 2017 earnings projections, compared with 108 yen for the previous year. The foreign exchange factor is expected to shave 110 billion yen off its annual operating profit.  (Jiji Press)