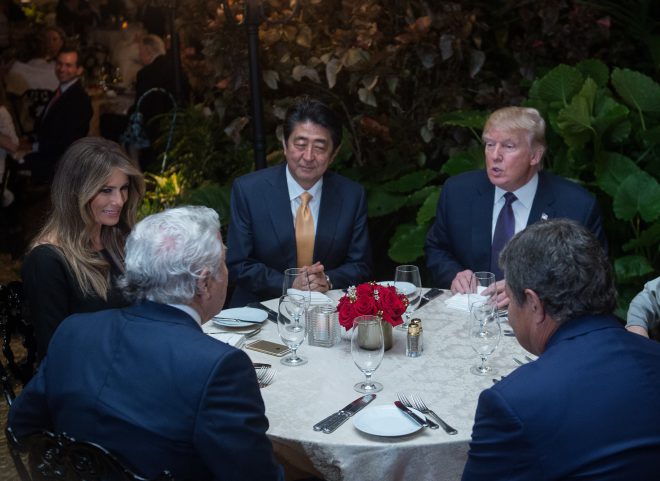 February 15, 2017
WASHINGTON- 
US President Donald Trump and Japanese Prime Minister Shinzo Abe discussed a response to North Korea's missile launch during their dinner in full view of guests at the president's Florida resort
on Saturday
, CNN and other media organizations reported
Monday
.
Trump's move to thrash out a major national security crisis in such an open-air nature has come under criticism.
The dinner, held at Trump's Mar-a-Lago estate in Palm Beach began shortly after
8 p.m.
(
1 a.m.
Sunday
GMT), just over two hours after Pyongyang fired a ballistic missile into the Sea of Japan.
According to guests at the private club, Trump and Abe, accompanied by their wives, sat at a table set in the middle of its open-air dining area, and continued with their discussions as the salads and main courses were served, CNN reported.
Senior Japanese government officials, as well as Trump's national security adviser Michael Flynn and chief strategist Steve Bannon left their seats to gather around the two leaders.
As guests looked on, aides used lights on their mobile phones to help the two leaders read documents as the table was dimly lit with only candles and moonlight. Trump was seen taking a call on a mobile phone at his table, according to CNN.
One of the guests posted photographs of the scene on Facebook and commented, "It was fascinating to watch the flurry of activity at dinner when the news came that North Korea had launched a missile in the direction of Japan."
House Minority Leader Nancy Pelosi criticized Trump on Twitter, saying, "There's no excuse for letting an international crisis play out in front of a bunch of country club members like dinner theater."
CNN also reported that, after the two leaders held a joint press briefing following their dinner-table discussions, Trump dropped in on a wedding reception at Mar-a-Lago and told the audience, "I said to the Prime Minister of Japan, I said, 'C'mon Shinzo, let's go over and say hello.'"
"They've been members of this club for a long time...They've paid me a fortune," CNN quoted Trump as saying of the newlyweds. (Jiji Press)