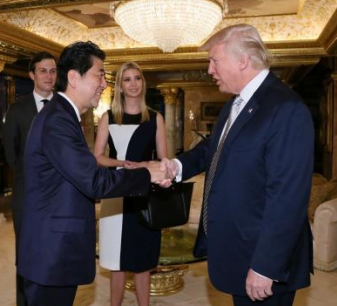 February 7, 2017
WASHINGTON- 
US President Donald Trump has revealed a plan to play golf with Japanese Prime Minister Shinzo Abe after their first summit at the White House
on Friday
.
In a telephone interview with Westwood One Sports Radio
on Sunday
, Trump expressed his willingness to "get along with all countries" including Russia, China and Japan. Then he said: "The (Japanese) prime minister is coming next weekend. In fact, he's coming to the White House and then he'd like to play golf, and we're going to come down to Florida, Palm Beach, and we're going to have a round of golf, which is a great thing."
"You get to know somebody better on a golf course than you will over lunch," he pointed out.
Asked whether he will have a bet on the round and whether Abe is a good golfer, Trump said he does not know. (Jiji Press)